Last Thursday we started the conversation about what makes Swiss watches the Gold Standard – and traced the early rise of Switzerland as the premiere country for watchmaking. Switzerland has passed that long-standing watchmaking expertise and knowledge down century after century, generation after generation. There's no denying that history counts in establishing a standard. Switzerland's 20th century contributions to the making of wrist watches was stellar.
In 1876, the Swiss sent delegates to the Philadelphia World Exhibition where they were shocked to learn of the American watch industry's strength in mass production processes. Switzerland fast embraced industrialization. High end watches would still be handmade, but this increased productivity enabled the production of more affordable watches and enabled Switzerland to retain its reigning position in world watch production.
As the concept of wrist watches began taking hold, many discussions ensued about where to put the crown, as no one knew which wrist people would wear their watches on. Audemars Piguet decided that since most people were right handed, the left wrist would be most likely. Early wristwatches worn by the military officers in the South African Boer wars had crowns on the right side of the case.
In 1904, Cartier produced a wrist watch for Brazilian aviation pioneer Alberto Santos-Dumont to see time quickly while flying his dirigibles around Paris. That watch – the Santos – was later the first wristwatch to be put into serial production. From there, Swiss wristwatch inventions surged. In 1908,
Eterna won a patent for the first wristwatch with alarm mechanism. 1909 saw the first chronograph wristwatch. During World War I governments globally saw the usefulness of wristwatches and Swiss brands complied with rugged pieces, chronographs, and watches with luminous materials for easy night reading. In the 1920s, wristwatches became mainstream. The Swiss offered creative designs and technical advancements. Rolex made headlines in 1927 when Mercedes Glietze swam the English Channel wearing a Rolex Oyster. After more than ten hours under trying conditions, the first truly water resistant watch maintained perfect time without condensation or penetration of water.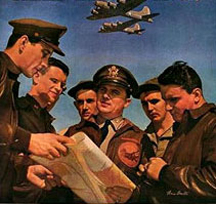 While American and Japanese watch industries were also growing, predominantly the Swiss led in watchmaking invention. World War II saw new wristwatch innovations from the Swiss. Breitling introduced slide rule bezels for pilot calculations, and in 1938 IWC unveiled its antimagnetic pilots' watch, the Mark X. In 1945, wristwatch chronometers took hold, and the Swiss Observatories held international chronometer trials. In 1948, Eterna introduced the first ball-bearing mounted rotor in a self-winding watch, a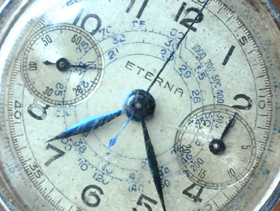 standard still used today in automatic wristwatches. In 1969, the first automatic chronograph wristwatches were introduced to the world (these by a group of watchmaking competitors – Breitling, Hamilton-Buren, and Heuer — that had been working closely together to achieve this feat).  This was also the year man first walked on the moon–wearing an Omega Speedmaster wristwatch.
The early 1970's saw the introduction of quartz watches out of Japan. This nearly destroyed Switzerland's watch industry, which had not embraced quartz technology. Many companies flailed. It was precisely this crisis, though, that saw the rise of Switzerland as a leader in luxury timepieces. That's next week's post. Stay tuned.