In the past two weeks, we brought you an encapsulated version of the long history of the Swiss watchmaking and its technological innovation over the centuries. There was a time – in the 1970s — that the Swiss watch industry nearly crumbled, but again, the tiny country and its watchmakers re-invented themselves and came out as the leader in luxury watchmaking.
It was the era of the quartz watch, which had its idea stages as early as 1959, when the integrated circuit was invented. The integrated circuit — an electronic circuit reduced photographically onto a semi-conductive silicon surface – was the equivalent of hundreds of thousands of resistors and transistors in a tiny area that could act as a conductor within the watch. Watch brands took note and began their research.
In 1960, the Swiss assigned the project of developing a quartz watch to a team at the Centre Electronique Horloger (CEH) research laboratory. By 1961, they had created a large, bulky prototype, and by 1967 had produced a somewhat smaller, thinner quartz crystal watch. The first manufactured product, the Beta 21, was developed and produced in 1969 and was to be made commercially available in April 1970.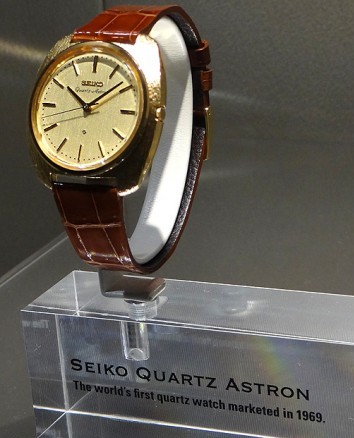 Around the same time, the Japanese watch industry announced that it was close to the development of production-line quartz manufactured timepieces. Sadly, many Swiss watch brands did not believe in quartz technology, and abandoned their aggressive pursuit. In 1970, only sixteen Swiss watch companies began using the Beta 21 quartz movements under their own brand names in products that would appear on the market a year or so later. It was the Japanese brand Seiko that first came to market with an analog quartz watch (the SQ Astron) on Christmas Day 1969. In the 1970s, Japan's sales of quartz watches grew from $2 million to nearly $20 million dollars. The Swiss watch industry was devastated, with many companies closing doors. Some Swiss brands pushed on, slowly introducing quartz watches alongside their mechanical pieces.
It was the advent of the Swatch watch in 1983 that finally got the world to take a closer look again at the Swiss.  The fun, fashion-forward, affordable Swiss Swatch watch became all the rage. Three years in design and development, it revolutionized consumers' attitudes about watches — making them fashion statements rather than simply functional items.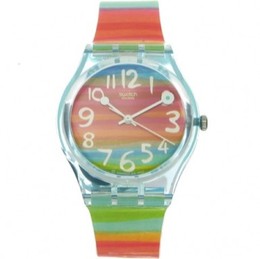 Watch sales soared. With the attention back on the Swiss, and with a hard lesson learned, the industry figured out how to make quartz and mechanical watches both. In fact, as it perfected its quartz designs, and because of its rich history, Switzerland became the only country that could successfully introduce and sell extremely elaborate and expensive quartz watches in 18-karat gold and diamonds. The country came back stronger than ever as the leader in luxury watch production.
Beginning next week, we bring you the details of today's Swiss watchmaking seals and standards. Stay tuned.