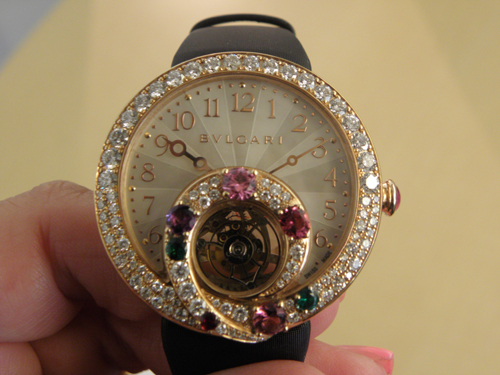 Berries Tourbillon Retrograde Hour watch
Bringing a bit of its jewelry heritage to the watchmaking front, Bulgari this year clearly focuses on women and unveils its Berries Collection of timepieces that includes a stunning Jump Hour watch and the alluring Tourbillon Retrograde Hours watch seen here.
The Berries Tourbillon Retrograde Hours watch features a marquetry mother-of-pearl dial and a case bedecked with 63 diamonds. The innovative design feature of the watch is a colorful three-dimensional glowing gemstone-set swirl that joins the diamond-adorned case at 6:00 and moves onto the dial — framing the tourbillon aperture in jewels (2 emeralds, 2 tourmalines, a sapphire, a ruby and an amethyst).
A work of art and technical mastery, the watch features a diamond-set oscillating weight, visible through the transparent sapphire caseback. It is created only in limited numbers due to the time-consuming hand finishing and assembling of the movement. The retail? Approximately $160,000.