Recently, while in Miami for the second annual Watches & Wonders Miami 2019 show, I was — naturally — taking pictures of the beautiful architecture that surrounded me at the Miami Design District. That stirred an interest: What are all of these spaces, sculptures, photos all about. So, I spoke to the Miami Design District Association to find out more. Here we take just a small sneak peek at a few of the iconic artworks that grace the MDD and the artists behind them.
Easily the most "in-your-face" sculpture is the Buckminster Fuller Fly's Eye Dome in Palm Court.  "In 1965, Buckminster Fuller designed and patented the Fly's Eye Dome, which he called an "autonomous dwelling machine." Prototypes began to be built by hand in 1977 and by 1983, three of the fiberglass spheres in various sizes (12-foot, 24-foot, 50-foot) had been produced. Fuller died before he was able to realize his vision for the structure. However, almost 50 years later, the design, a Monohex variation of the  dome, can clearly be seen as a forerunner of today's green building movement.  In 2011, collector Craig Robins (also head of the MDD) acquired the 24-foot prototype with the intention of exhibiting it and using it as inspiration for a key element of the Miami Design District. The following year, The Buckminster Fuller Institute, in partnership with Goetz Composites, ConformLab and DRDesign, began the development of a program to complete Fuller's vision, using advanced technologies and materials not available to Fuller in the 1970's. BFI was then commissioned to produce a Fly's Eye Dome utilizing state-of-the-art materials, intelligence and techniques, to be prominently incorporated in the Miami Design District."
For those who venture upstairs to the wonderful boutiques at Palm Court (where, among other, Sevan Bicakci is located), you are greeted by a wonderful fiberglass sculpture of famed architect Le Corbusier by French artist Xavier Veilhan. "A multi-talented architect, designer, painter and city planner, Le Corbusier, was an impressive force in pioneering what would eventually define modern architecture. His career, spanning five decades, has left an indelible mark on art and architecture since his death in 1965. To create "Le Corbusier"  the artist employed modern techniques that may have impressed the forward-thinking architect. The bust began as a drawing before being translated into Veilhan's signature polygonal style with the help of a computer and digital scanner. Originally installed atop the Cité radieuse (Radiant City), one of Le Corbusier's most famous and influential buildings, Veilhan puts himself in direct conversation with the architect and his buildings."
 Elastika by Zaha Hadid is a site-specific installation, which graces the historical Moore building built in 1921. "The existing building has two major implied architectural moves: horizontal circulation on layered mezzanines and four story vertical columns that stretch upwards to embrace the central atrium. Pushing the envelope of current spatial concepts, we have instilled a dynamic tension within this existing Cartesian layout. Oblique 'stretches' span the space like chewing gum, establishing an elastic/plastic connection between different floors, creating new understanding in complex geometry and fluid architectural order. The design and manufacture of the installation has only been made possible through the latest advances in technology. Its form was generated on complex geometry software (using nurb surface modeller). This design was then sculpted by CNC (Computer Numerical Control) milling to enable manufacture."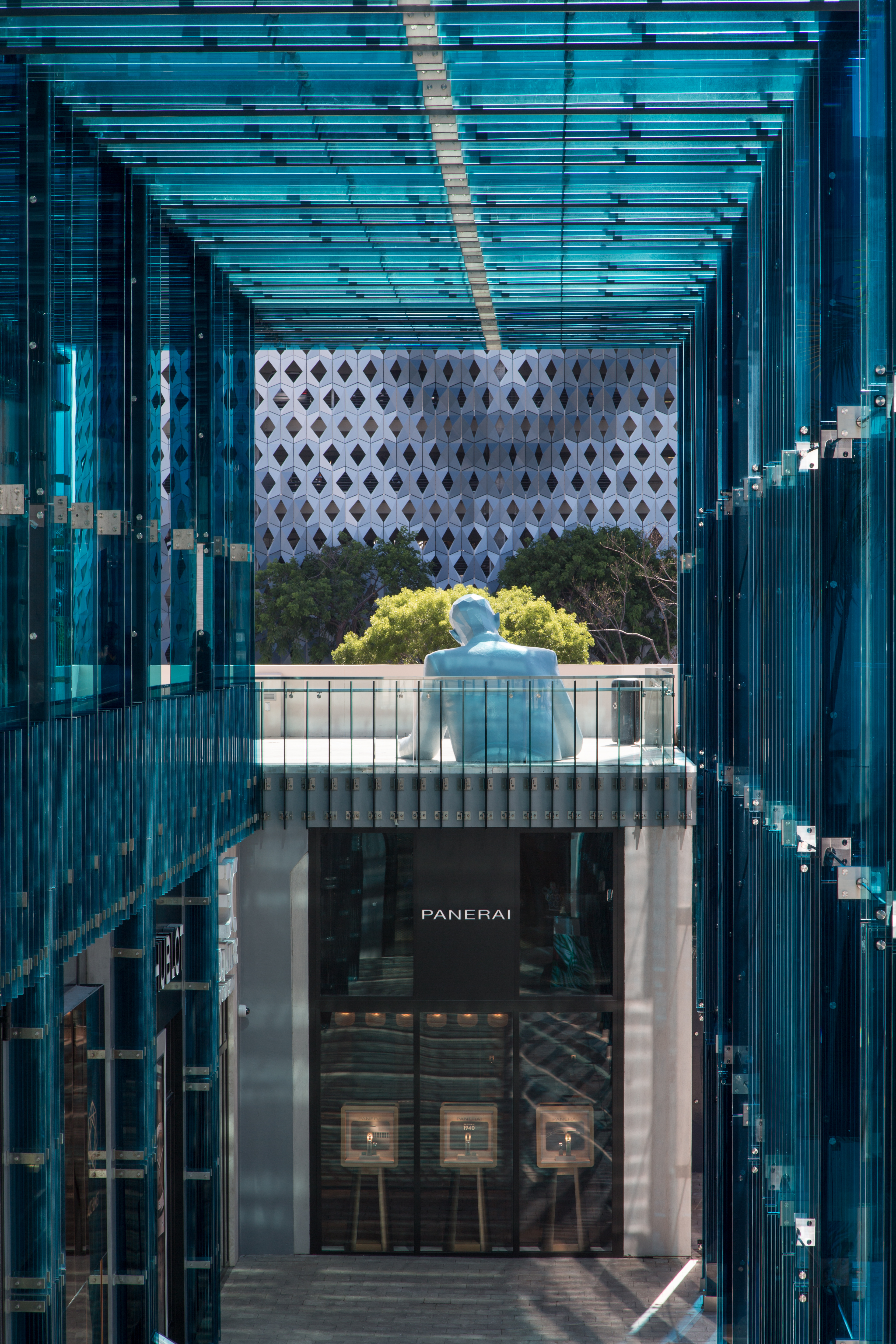 Sou Fugimoto (photo by Robin Hill)
Few people visiting the MDD realize that even the space that outlines the luxury boutiques is a work of  art. "The building facade at Palm Court was designed by Sou Fujimoto. One of todays most forward-thinking international architects, Sou Fujimoto is known for delicate, light structures and permeable enclosures. Inspired by organic eco-systems, such as forests, nests and caves, Fujimoto's signature creations exhibit a vibrant interplay between nature and architecture, blending the internal and external. The building's façade is one of the cornerstones of the pedestrian-centric area and is inspired by the flowing movement of waterfalls and Miami's tempestuous rainsqualls. The two-story structure features an elongated series of glass fins extending from the rooftop down to the open courtyard creating a dynamic visual spectacle and alluding to the prevalent aquatic nature of the city."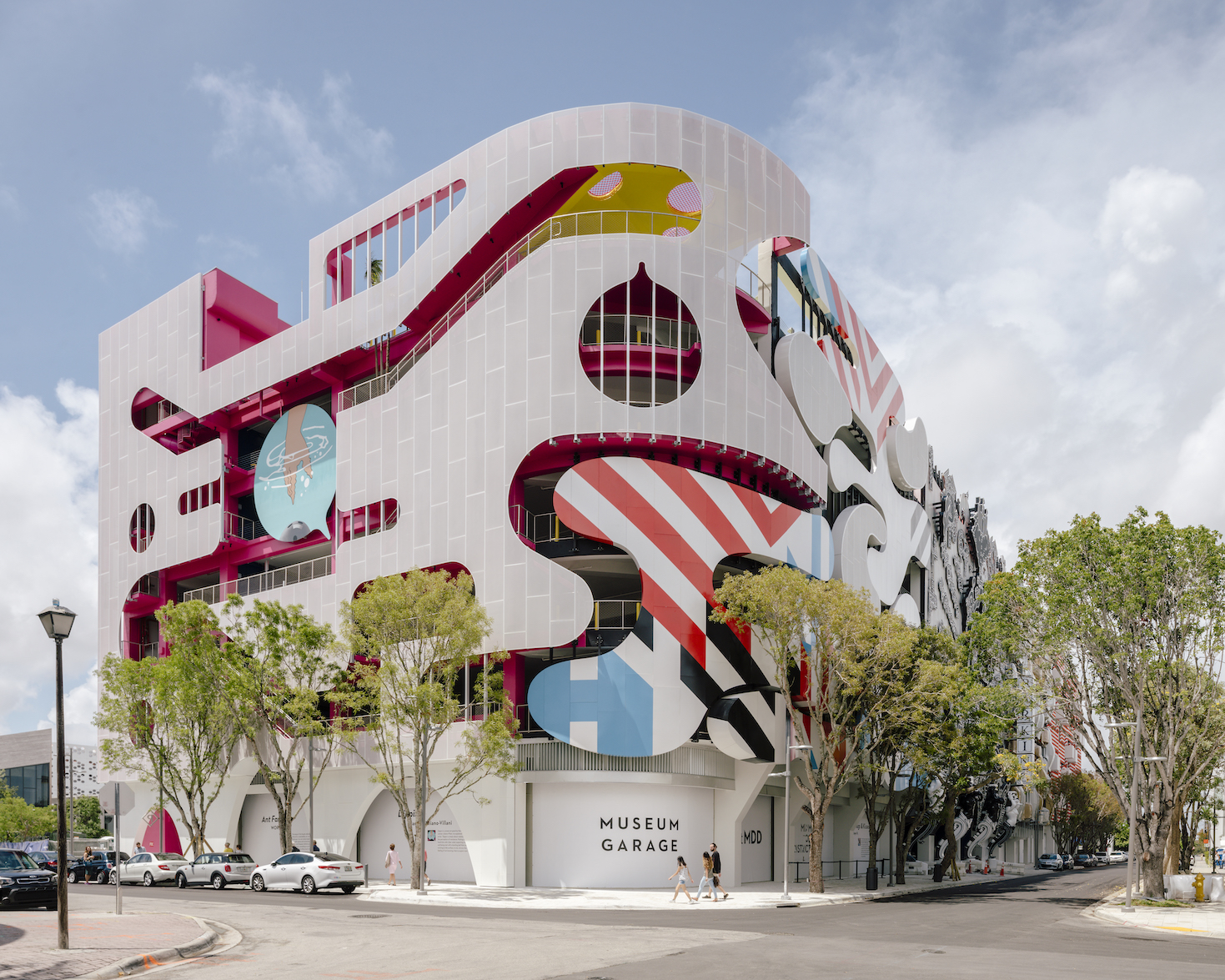 A space often overlooked is the beautiful Museum Garage. Seven stories high, with the capacity for 800 vehicles, the garage features the work of five different world-class architects and designers. "Architect and curator Terence Riley oversaw the project.Inspired by Cadavre Exquis, a French game that involves a collection of images assembled by various artists with no regard or knowledge of what the other artists have drawn. Riley brought four other artists on board for this project including WORKac, J. Mayer H., Clavel Arquitectos, Nicolas Buffe in addition Riley's own architectural firm K/R (Keenen/Riley) to play. They were each given a space to build out with no limits on what they could create, as long as it fit their dimensions they were assigned."
If you happen to pass by the storyboard wall of hands, and wonder what it's about, no need to wonder anymore.  CalledActual, Infinity, the all was created by Jamiliah Sabur in 2018. It " relates to the artist's ongoing interest in language and metaphysics. Sabur developed the piece with the site in mind, describing it as a conversation with Buckminster Fuller's Fly's Eye Dome situated across Palm Court. Here she meditates on the cognitive foundations of mathematics, the notion of the infinite. A collage comprising of 32 pointing hands, each on a grid in the classic Sony Trinitron CRT monitor, Actual Infinity meditates on the cognitive foundations of mathematics and the notion of the infinite."
From there the list of art goes on and on, with so many unique installations sometimes erected for only a short time. If you are an art lover, I suggest you take the Art Tour of the Miami Design District. You won't be disappointed.