As this year's 34th America's Cup enters its exciting final weekend, we want to bring you a little behind-the-scenes info about how the R&D departments of TAG Heuer and Oracle Team USA co-invented onboard connectivity equipment and  intelligent smartwatch to supply each crew member instant access to crucial race condition data in real-time.
The system uses special editions of the commercial Aquaracer 500M Calibre 72 Countdown chronograph, customized for each sailor's specific tasks and wirelessly linked directly to the boat's onboard computers. The optimized high-contrast LED screen displays constantly updated information on how the boat and its sails are behaving, including boat speed, foil balance, sail pressure, true wind speed, true wind direction and true wind angle. Connected to captors and computers located at the home base of Oracle Team USA and throughout the boat, the real time data stream allows for amazing reactivity and synchronicity. The extreme-tech and digital chronograph is the first watch designed specifically for and by a professional sailing team. At a glance easy-to-read with a wide-open 51mm face, it weighs only 108 g and is impact resistant to 5000 G.
For the project, TAG Heuer drew technical inspiration from its watch, eyewear and telephony activities. The Aquaracer 72 uses the brand's patented splashproof technology, first used in TAG Heuer eyewear. The data processing equipment onboard the 72-foot catamaran was waterproofed using technology developed for the iconic TAG Heuer Monaco chrono. For the watches worn by Oracle Team USA's grinders — the sailors who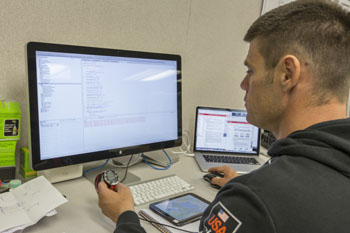 man, at lightning speed, the boat's winches during the crucial pre-start and tacking duels — the brand developed a special "heads-up display" with polarizing lens based on TAG Heuer Eyewear-developed photochromic technology. Jimmy Spithill, the team's skipper, communicated with his crew on a waterproof phone, the Racer Sub Nano, strapped to his forearm, and outfitted with TAG Heuer Meridiist mobile telephony technology. Only 50 of this special Aquaracer 72 were produced to equip the team and none are available commercially.
"This was a first for sailing and a first for Swiss watchmaking," said Stéphane Linder, TAG Heuer President and CEO (Read a moment in time with Linder here.). "It represents the next-generation of competitive sport technology."
Oracle Team USA and TAG Heuer fans who cannot own one of these special timepieces, can be part of history.  TAG Heuer has launched a limited edition version of
the Oracle Team USA crew's Aquaracer 72: the AQUARACER 500M Calibre 72 Countdown Automatic Chronograph 43mm (which we covered and you can read about here).