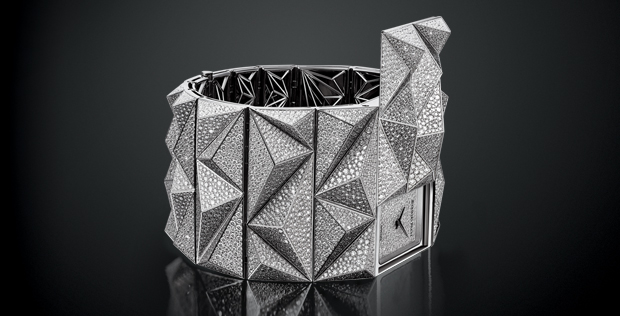 It isn't every day someone calls you a punk and you are proud of it … especially if you are a luxury watch company. However, Audemars Piguet is proud of the term — since the brand just unveiled its Diamond Punk secret watch earlier this year in two breathtaking renditions.
These watches recently made their way to the US market and made quite a splash. Crafted in 18-karat white gold with bold angular appeal, the cuff Haute Joaillerie timepieces are ensconced in in thousands of diamonds that form the case and bracelet. There are even another 300 diamonds on the hidden dial.

The watch, a brainchild of head of the brand Francois Bennahmias, takes its inspiration from the Punk era and its geometric design spirit.  The bracelet of the watch consists of 56 3-D triangular-shaped prisms and depending on the model, those prisms are bedecked in either all diamond brilliants, or a combination of 5,326 diamonds and black onyx insets.
Daring and delectable, the Diamond Punk is also a dramatic example of pure gem setting craftsmanship. IT takes the brand's master setters more than 1100 hours  (seven months) to set one all-diamond version using a snow setting technique. Even the reverse side of the watch has been meticulously finished with an geometric motif.
Naturally, with more than 22 carats, the watch retails for well over half a million dollars –but come on– it feels great on the wrist and looks, well, bedazzling.