By Gordon Henderson
It has been said that life is a contact sport. Go out and meet people because many of life's experiences are driven by the relationships you create. To this end, being around like-minded people is paramount. For me, finding a watch club has not only been a really cool experience with unbelievably awesome people, but also an opportunity to dive deeper into a subject matter I have always been fond of.
Search through the hashtag #redbarcrew on Instagram and you will find posts and photos of a clan of watch lovers that meet weekly to grab a beer (or two or three or four…) and discuss, what else, watches. ATimelyPerspective editors – especially me – frequent these meetings.
Many members have what most mortals would consider grail watches, unobtainable for most people. However at the group not only will you see said grail pieces, i.e. a Patek 5970, but also you'll see two to three of the same model, along with rare a model number. It is not uncommon for members to bring in their rare Rolex Daytona, A. Lange & Son, Audemars Piguet Royal Oaks and Jaeger-LeCoultre Memovoxes. There is always a surprise find. The owners of said pieces offer feedback and their impressions for any considering a similar purchase.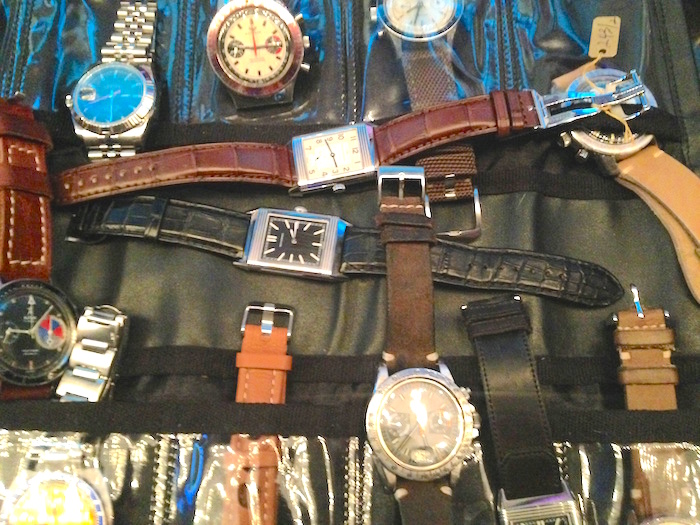 However you will also find a judgment-free zone at these meetings … a place where alongside those same pieces sits a Seiko Sumo, a G Shock and a Swatch watch. The members discuss the intricacies of everything displayed with ease and a smile only a watch lover can show. The pieces are available for display for everyone to touch, photograph, play with, but you can only leave with what you came in with.
Sprinkled in with photos of the timepieces are photos of pocketknives comprised of various composites. Many of the knives feature the same exotic metals used by the luxury watch designers such as carbon fiber or ceramic and even SuperLuminova.
As in life, every group has its leader. Star Wars and the rebel alliance has Luke Skywalker, Game of Thrones the North has the Starks of Winterfell. Redbarcrew has Adam Craniotes. A lover of all watches — save Invicta, fake watches and other brands even more nefarious to mention — he tirelessly organizes and hosts the events.  Often sales representatives from various brands attend, bring in samples and answer hard-hitting questions from a core group of horological aficionados.
Much like Fight Club, the group, which started in NYC, has spawned other crews in Boston, LA and Canada. The group was also recently featured on CNN and in the New York Times. These guys are definitely creating a revolution.
Meanwhile, Craniotes answers a few questions about Redbarcrew for ATP.
Q: How did the group get started?
A: "The group was started in 2007, when — after a lunch with Kobold founder Michael Kobold, myself and co-founder Dr. Jeff Jacques – we all said, 'This if fun.  You're a cool guy, I'm a cool guy, we love talking about watches; we should totally do this again.  Let's meet once a month.'  It started with just us then another and just us, and so on.  We never intended for it to blow up the way it has."
Q: What's one of the benefits of being part of the group?
A: "Most watch conversations start like this: hey nice watch. How much did you pay? In a normal world that's the end of the conversation, but Redbarcrew fosters an environment that allows the conversation to continue and creates an opportunity for people to make new friends who are also watch lovers."
Q: What's your favorite watch?
A: "The Big Kahuna — aka the IWC Big Pilot Perpetual Calendar Top Gun.  I had my eye on a buying a big pilot watch for some time.  But it was like they were missing something and I couldn't put my finger on it.  I have also always loved the perpetual calendar complication, but hated the dress watches that featured them.  They were small and dainty, some are 36mm.  Way to small for me.  It's like IWC listened to what I had to say and made the watch for me: a perpetual calendar in an antimagnetic ceramic case with the styling of a big pilot piece.  It's freaking awesome."