Unless you're a trained professional, it wouldn't be considered wise to take apart a watch just to put it back together again.  However, decades ago, a young Oscar Waldan, of Waldan Watches, secretly did just that with his father's pocket watch simply to locate and diagram how the pieces fit together. Shockingly the story doesn't end there. The Swiss-based Waldan Watch brand holds a rich history, which not only serves as an amazing backstory, but also sets it into a league of its own in terms of design and originality. Recently, ATimelyPerspective had the  opportunity to speak with Oscar's son, Andrew Waldan to hear the entire story.
Oscar Waldan's life is something out of a Hollywood movie. At the onset of World War II, the Polish native was forced into a concentration camp after being invaded by Nazi Germany. His passion and fascination with watches, however, managed to flourish while in the camps. He worked with a POW Jewish watchmaker by the name of "Manek" who was favored by the Germans because of his ability to repair their watches. After the war, and surviving his persecution, Waldan made his way to Germany, and then eventually, by 1955 to Le Locle, Switzerland to apprentice under Charles Tissot.
His work took him even further as he created connections with the likes of Omega, IWC, and Rolex. He worked with Tiffany & Co. as well as the still-developing Ulysse Nardin. After producing some amazing results for each brand he worked with, Waldan decided his efforts would be best spent in his own endeavors. Thus, in 1979 Waldan founded and established Waldan International. Just 10 years ago the brand stepped up its manufacturing and focused on making quality timepieces by a man with a rich history.
One of the things that Waldan Watches prides itself on is its breadth of each model, as well as its focus on making quality watches. Waldan Watches focuses its attention on making a wide range of color schemes within its existing six models. The Chronograph Chronometer has such a diverse color collection, which results in between 20 to 30 different combinations. Its website doesn't even list all of the possible combinations — leaving the option open for a buyer to create a custom order.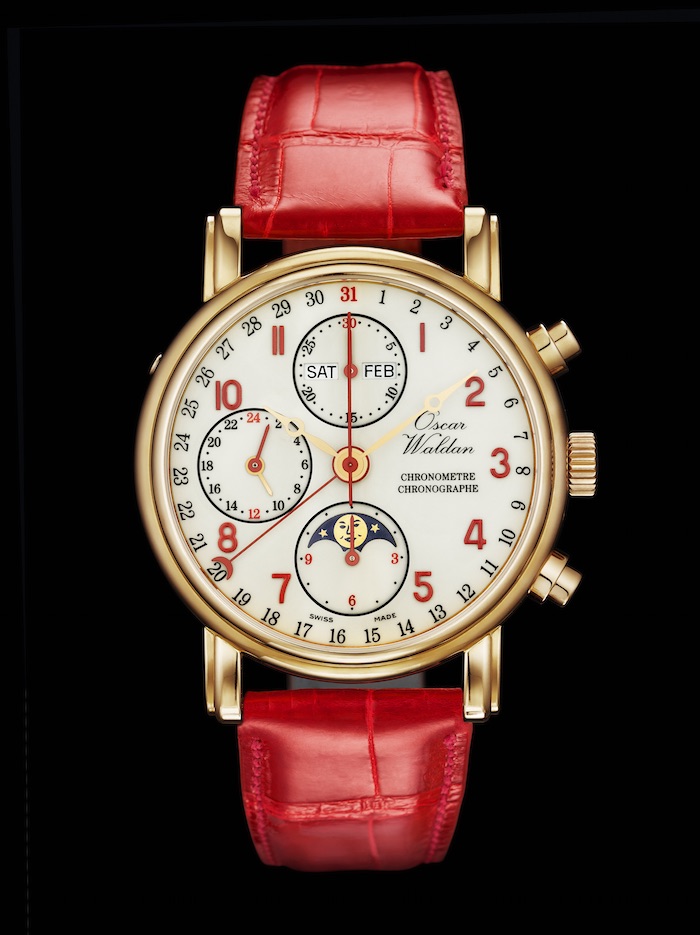 The Chronograph Chronometer features a tried and tested C.O.S.C certified 25 jewel Valjoux 7751 movement. As previously mentioned, at the core of Waldan watches is its promise to use quality materials. That being said,  the Chronograph Chronometer comes in a two piece solid 18K yellow or white gold case, with an additional option for a solid platinum case. Keeping with an elegant look and going against the modern large-watch trend, this piece comes in a 36mm or 38mm sized case.
Another highly unique and refined piece loaded with history is the brand's Astronic Chronograph. This watch, again, has a wide variety of color combinations fit for a range of styles. However, the story behind the inner workings of this piece date back to the early 1980's and the quartz crisis that followed.  While some brands were worried that their mechanical movements would soon become dated, Oscar Waldan felt a watch's true value would always be within its technically complex mechanical movements.  When Waldan learned that the likes of Zenith was liquidating its 1969 El Primero 3019 PHF he quickly stockpiled the collection. The Astronic Chronograph, complete with triple date features, tachymeter and a rotating moonphase has incorporated that very 1969 El Primero 3019 PHF retro movement into its present day watch.
This piece as well as all Waldan pieces are Swiss-made and C.O.S.C. certified to highlight the quality and precision within each one of its timepieces. The brand's largest case is 40mm, which hints at the fact that Waldan Watches aims to make classically elegant wristwatches with a vintage look and feel. Don't let the old time feel fool you, Waldan watches has an extensive website which features an online store. Of course for the more unique designs and colors you may want to visit a Waldan retailer.
Oscar Waldan turns 100 years old this month. His son Andrew is excited and honored to be part of one of the few family-owned watch companies still in existence. And while the times may change, Waldan Watches continues to tell it in the same elegant and uniquely stylish way.