It's an odd mix of futuristic science fiction and pure, unadulterated watchmaking – and it's a world's first. Yes, Max Busser, founder of MB&F and lover of all things space age and science fiction, takes his horological machines to an all new level as he breathes life into the new LM1 Xia Hang watch. The first ever vertical power reserve indicator – this incredible watch features a tiny aluminum alien sitting on the dial with his head fully raised while the watch is fully wound and lowers his head as the 45-hour power reserve dwindles to the end. Winding the watch to power the mechanics breathes life into the 1/8" tall alien and he raises his head and sits straight up. Ok, so we admit- not only is this the world's first vertical power reserve indicator, but also- let's face it — it holds the world record for being the first wristwatch with a little 3-D man on it at all!
Never before has such an incredible concept been presented as reality; but then, that's Max Busser for you. I've known him for well over a decade and a half and I know this watch embodies his dream to convey the fact that a mechanical watch is almost like a living, breathing thing. For years, Max considered ways to show the power reserve of a watch as a winding down and then back up process. He considered various ways to demonstrate this. Then, when Max met Chinese artist Xia Hang – creator of sculptures that he calls comma men but that really look like people – Max was inspired. In fact, Max visited Xia Hang in his workshops several years ago and says "I was like a child in a toy factory." Busser brought in several of the artists' alien sculptures to his M.A,D Gallery in Geneva and as he thought more about it, he knew they would work with his breathing-life-into-a-watch concept.
"Most of what we do today in watchmaking was invented 500 years ago. Watches are the oldest man-made contraption still in production today," says Max Busser. "We just find unusual ways to present them for our times."
Well this new watch certainly is unusual. A full year in the research and development stages, the Legacy Machine No. 1 Xia Hang was born of a great collaboration between MB&F and Xia Hang – bringing in more than a dozen of Max Busser's "friends" to bring it to fruition.
To be fair, we are so struck with the sheer genius of using an alien who fatigues after keeping peak performance for 45 hours and then comes back to life with the wind of the crown that we almost forgot to give you the technical details. In fact, the vertical power reserve indicator is driven by an ultra-flat differential with ceramic bearings – thereby offering a longer-lasting mechanism. The power reserve complication of the original LM1 (which you can read about here) was modified so Xia Hang's man could transition from slumping right over when the power is low to sitting up straight at full wind. The domed crystal and revolutionary 3-D design of the entire watch also made this possible. Naturally MB&F had to develop the articulation of the sculpture for this process, which also took some time and was made possible by a concealed hinge.
The tiny micro-mechanical sculpture is created in aluminum to minimize energy requirements. The radical watch is built according to the same dynamic construction as the LM1 with a caliber developed by Francois Mojon and his team at Chronode — featuring floating balance wheel and dual time indication via two dials whose hours and minutes can be set independently of one another. (Read more about that watch here.)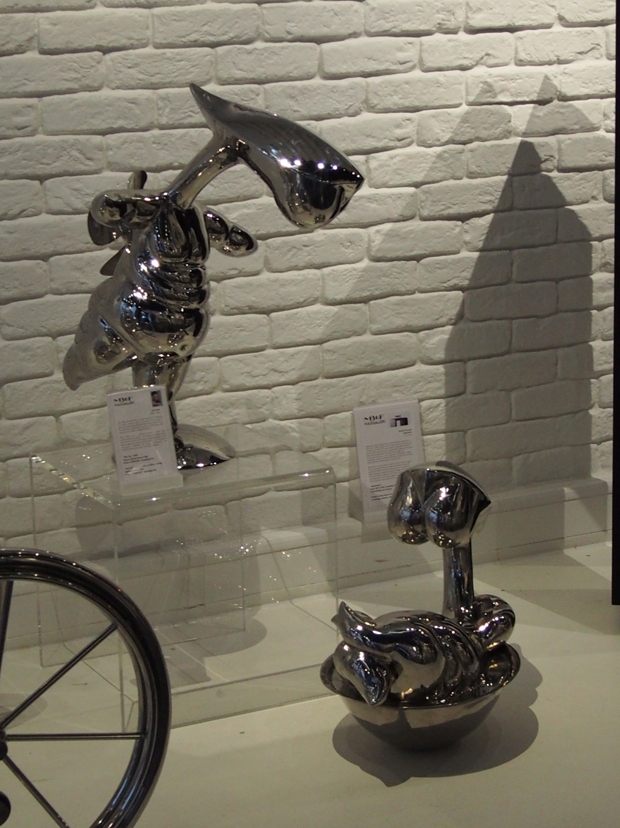 The LM1 Xia Hang is being created in a very limited edition of just 12 pieces each in 18-karat 5N rose gold and 18-karat white gold. Thanks to a gesture by Xia Hang, each of the 24 pieces will be accompanied by a pair of 6-inch-tall sculptures that MB&F refers to as Mr. Up and Mr. Down, while Xia Hang refers to them as babies (fat babies, to be precise) and we in the real world refer to as aliens. The LM1 Xia Hang will retail for just $107,000—a really out-of-this-world price for a truly space-age watch.