It's official: Derek Jeter one of the Yankees' all-time greats with five World Series championships (including a Series MVP trophy in 2000), 14 All-Star selections, and two Hank Aaron Awards, among countless other accolades – has played his final game.
That game took place just over a week ago, and many are still trying to wrap their heads around the fact that this all-time great has retired."Playing for the Yankees has been an experience beyond what I could ever have
imagined," says a modest Jeter. "To
 be able to call Yankee Stadium my office is not something that I have
taken for granted." Jeter describes his experience in New York as "unique. I couldn't have become the player I am without the people of this city. They have pushed me to be my best."
In celebration of Jeter's retirement, 10-year partner Movado has created an all-new Captain's watch line. This is not the first watch Movado has made in cooperation with brand ambassador, Jeter. Several years ago, Jeter worked with Movado to design a watch honoring his 3,000th major league career hit in 2011—it sold out quickly.
Now, as he prepares to hangs up his No. 2 jersey, Jeter has gone back to the drawing board with the designers at Movado to develop this all-new watch. "Working with their creative group and coming up with pieces that appeal to me aesthetically and have significance to highlights in my career has been very rewarding," he says.
The new Captain Series is comprised of a trio of commemorative timepieces that pay tribute to Jeter's leadership roles on and off the field. Each has a customized dial with Jeter's No. 2 at the two o'clock position and a special commemorative caseback that references his career. "People ask me how I want to be remembered," he says. "It's easy. I want to be remembered as a Yankee."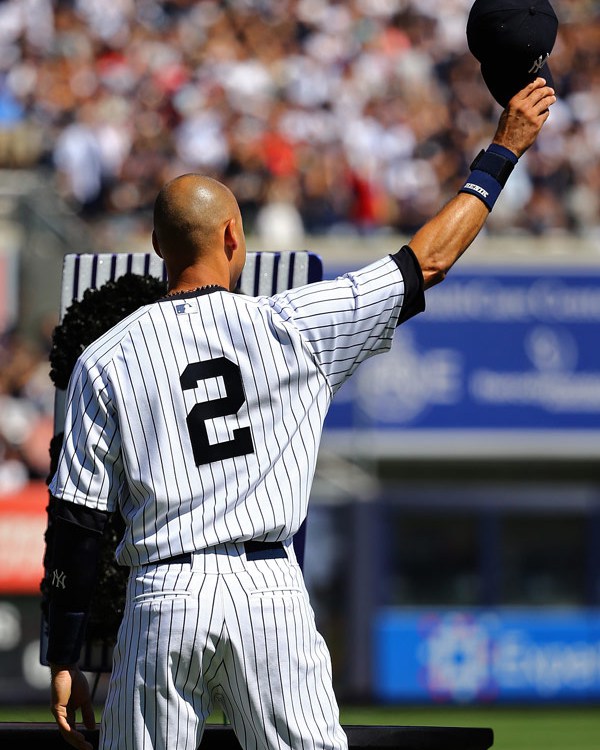 For more coverage, visit Gotham Magazine, where a larger article by ATimelyPerspective founder Roberta Naas was first printed.