You may recall we were among the first to unveil the first HYT timepiece in January of 2012 and covered it again here. From the company that is the Hydro Mechanical Horologists, that first HYT H1 watch garnered international acclaim. It is now available in new versions, but another generation –the new H2 watch – is also making its debut. The extremely limited edition H2 was created by HYT in cooperation with APRP (Audemars Piguet Renaud et Papi) led by the renowned watchmaker Giulio Papi.
For the making of the new watch, with its architecture, Vincent Perriard, CEO of HYT, says "We had to re-invent the fluidic module and make it in "V" shape to allow the movement to surround the bellows (pistons)."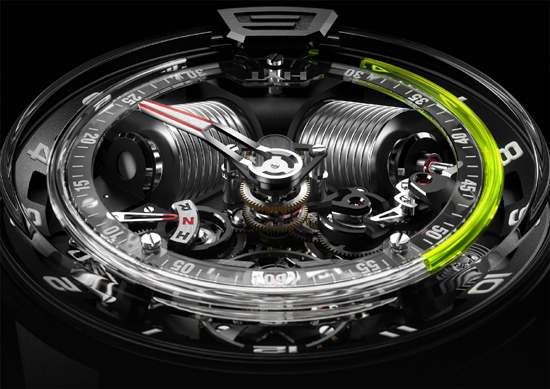 The watch has an increased power reserve of 8 days. The 48mm black DLC titanium case and its new movement architecture was a year in the design stages. It offers retrograde fluidic hours, and minute's indication via a jumping hand functioning at 30 minutes. (Two flexible reservoirs, or pistons, with a vein at each end comprise the driving force of the watch. Each piston contains a different liquid and when the bellows are compressed, the fluid fills the veins to indicate the time.) The mechanical manual-wind exclusive HYT caliber beats at 21,600 vibrations per hour. The hybrid movement of H2 is redesigned to optimize the integration of the interface that connects the watch mechanisms with the fluid system. The watch also boasts a hand that is a temperature indicator – enabling the user to determine when the fluid is at optimum temperature range.  Just 50 of the H2 will be created.