When I first heard of this brand and its efforts to bring full-scale production watchmaking back to American soil, I had two thoughts: What kind of name is Shinola?; How do they think they can do this in down-trodden Detroit? That was a couple of years ago. Now, with all the information disclosed and the first watches – called the Runwell – being unveiled, I have some good answers.
While it's been approximately half a century since any full-production watchmaking has been done in America, a group of watch industry veterans and friends thought they could change that and bring American-made products back to the forefront. They formed their new company, Shinola, in Detroit, and set their sights on making watches, bicycles (made with custom-level USA-made frames), leather goods (made of leather from Horween – one of America's oldest tanneries), shoe polish and more – in America.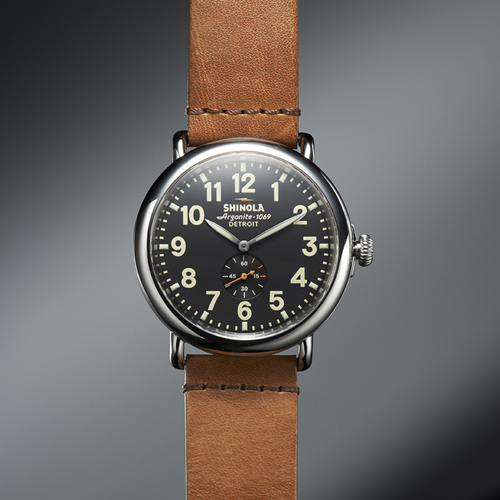 So, first – the name. As it turns out, it's a great name!  To launch the business, this group adopted a tried-and-true American brand name: Shinola. The original company, Shinola-Bixby, was a small-scale shoeshine manufacturer started in 1907. During the World Wars, when shining boots was required, Shinola's business boomed. This is even the company around which the pop-culture saying was formed in the early 1940's:  "You don't know shit from Shinola."
So, in 2011, the Shinola brand was re-imagined to make quality products in America. The group, Bedrock Manufacturing, partnered with Ronda AG of Switzerland for watch movement parts and as a partner in the business. The investment enabled them to build a state-of-the-art watchmaking factory in Detroit. In fact, they built a built a 30,000-square-foot factory on the College for Creative Studies campus in the ex-General Motors plant (where GM's design teams produced countless innovations for cars and medicine). They recruited and trained Detroit locals in quartz movement assembly and watch assembly.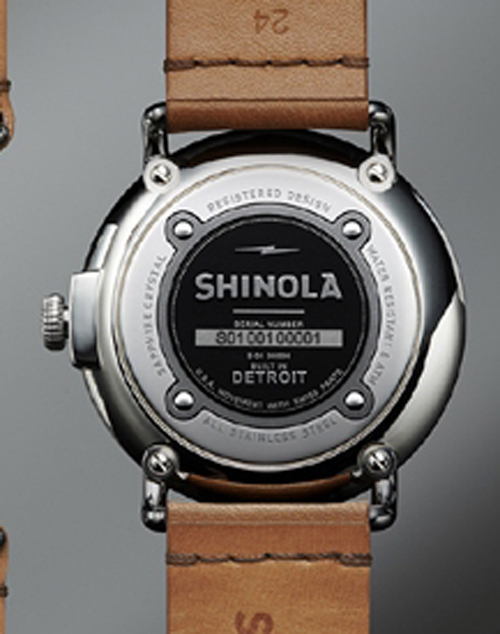 Shinola's first hand-assembled quartz movement has been named the Argonite 1069, after the Argonaut building the factory is housed in. The Argonite 1069 consists of 46 Swiss-made components. It is housed in a steel case, with sapphire crystal and Shinola lightning bolt logo on the dial. The first series of watches, called Runwell consists of a 47mm size (1,000 pieces limited edition) and a 40mm size (1,500 pieces). Each individually numbered case back also features that logo and reads "Built in Detroit."  The watches also feature leather straps made from Horween (Chicago) Leather Company. (Bracelets, cases, dials, hands and crystals are made in China.) Watches will retail from $475 to $850.