By Norman M. Miller
Like many watch lovers who are also tech geeks, I knew I was ordering the Apple Watch as soon as it was announced. I anxiously waited at my Mac Book for ordering to begin on April 10, and incessantly checked my order status on both my iPhone and iPad until a confirmation email told me I'd receive it on or around June 24. "Bummer," I thought at the time … I wouldn't have it to wear to the Las Vegas jewelry shows, where mixed opinions awaited.
Unlike some, I do not see the Apple watch as a threat to the watch industry. I see it as an opportunity. Think about the 20 something's in your lives who tell time by looking at their phone. Apple Watch is an opportunity for them to begin their watch wardrobe, hopefully upgrading to higher-end brands as their disposable income grows. Let's not have Quartz Reaction 2.0! I'd like to think we've learned something since the 1970s.
The thing is, the product, although breakthrough, has a ways to go before it wins me, and others, over.
I bought the 42mm stainless steel version with the Milanese loop mesh bracelet. It cost me $699. The strap closes with a magnet. I also purchased an additional $50 black sport band.  While I did receive the watch on May 12— weeks earlier than anticipated, (part of Apple's under-promise and over-deliver strategy), I had problems with its contact synching from Day 1.
Although those issues have been resolved through numerous hours-long visits to the Genius Bar, half a dozen phone calls, 20 resets to the watch, and my own personal Apple Aide ("I am the last person you will talk to at Apple about this problem. We will fix it."), it was not a seamless process to get there. I do commend Apple, however, on their customer service.
I can't help but wonder, though, if the fix would have occurred as quickly as it did if I hadn't told them I had a deadline for this online post and that I'd like to resolve the issue quickly as I was in Las Vegas talking to dozens of watch and jewelry executives.
One of the more frustrating issues revolves around the "contacts." The Apple Watch syncronizes with your contacts from your phone (which are stored in the cloud for most). My contacts would download on the watch through the letter M and then revert back overnight to the letter A. This happened dozens of times with multiple reboots and resets. The watch stopped downloading contacts all together until my personal Apple Aide found me after seeing my case number appear repeatedly. At one point, I had to clear my phone and reset it from a backup, a process that is still resulting in issues with my phone.
Once I was in Las Vegas and they saw my case number appear again, the Personal Aide kicked in. Miraculously, after two weeks of unresolved issues, telling her about the blog post and being in a city with the entire jewelry and watch industry, the contacts all appeared, have been syncing and have had no further issues. Coincidence?
To Apple's credit, my Personal Aide did do two additional follow up calls with me; Kudos to her.
Syncing issues aside, is there anything I do I LIKE about the watch? There are many things, believe it or not.
I'm not all that bothered by it having to be in proximity to my iPhone, since my iPhone is never far away. If I want a playlist just on my watch while I'm at the gym, I can make that happen while leaving my phone in the locker.
The videos on Apple's website and on your devices serve as a virtual manual. Watch them. You'll learn something. If you're a manual nerd like me, you'll find them fascinating. Always RTFM.
The first thing that I love the most is the least technical function of the watch. I'm left handed and for years have been forced to remove my watch to set or reset it since the crown is on the right. Upon set up, the first thing the watch asks you is what hand you wear your watch on, and adjusts the face and crown accordingly. It's simple but a really brilliant moment. The watch industry might want to take note.
My second favorite thing is being able to flash my watch to buy my overpriced Grande Soy Misto with two Equals at Starbucks in the morning (yes, for $4.00 They can and should put in the sweetener). The same goes for boarding passes. I travel a lot, and anyone who does knows that it is not always easy or pleasant (unless you're an Elite Traveler reader). Having my boarding pass on my watch makes traveling just slightly more fun — and easier. The same can be said for Apple Pay. Just this week, I've used it at Whole Foods, Office Depot and my local Hudson Valley Supermarket. It's always a thrill when you're the checkout person's first.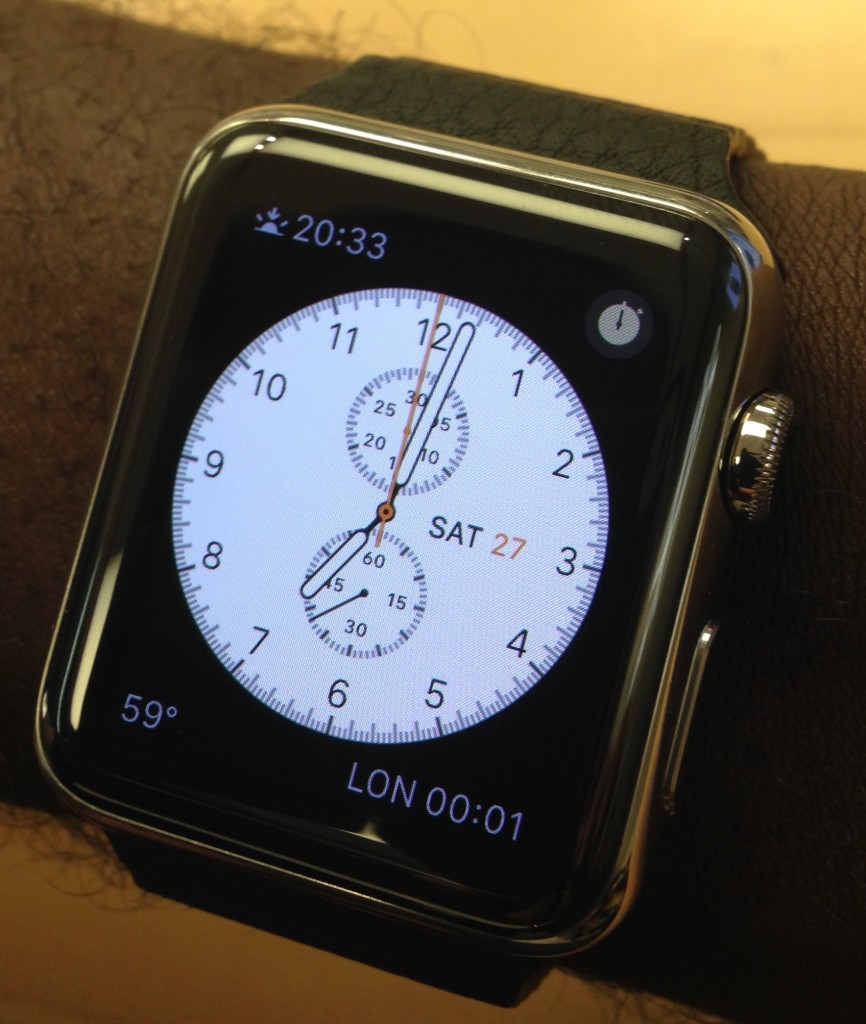 I have been able to give up my Fit Bit. Apple watch tracks my steps, activity, and even reminds me to stand once an hour. I used it during a Spin Class last week and was impressed with its tracking ability for calories burned and heart rate.
I use my phone for driving or walking directions a great deal. The directions transfer directly to the watch visually, and even offers a soft, subtle tap when a turn is required that reminds you of a turn signal in a car.
Texting—I've heard folks complain that you can only text back standard responses. However, you can easily record a response that will send from your watch. This great feature is a function of Siri, Apple's automated, voice activated "Ask Jeeves," which is built in to the watch. It's great for finding everything from a local sushi joint to the nearest In and Out Burger. It finds non-food locations as well.
While the battery life claims 18 hours, I've gotten more out of it. It just needs to be charged each night. Charge it on your nightstand and still hear the alarm in the morning. For an extra $20, buy a charger for your office as well. The reserve battery function also comes in handy.
So, did I need the Apple Watch: No.
Did I have a frustrating few weeks with it: Yes
Was it a hit in Vegas where everyone asked me to take it off my wrist? Yes.
Am I glad I bought it? I'm still not sure.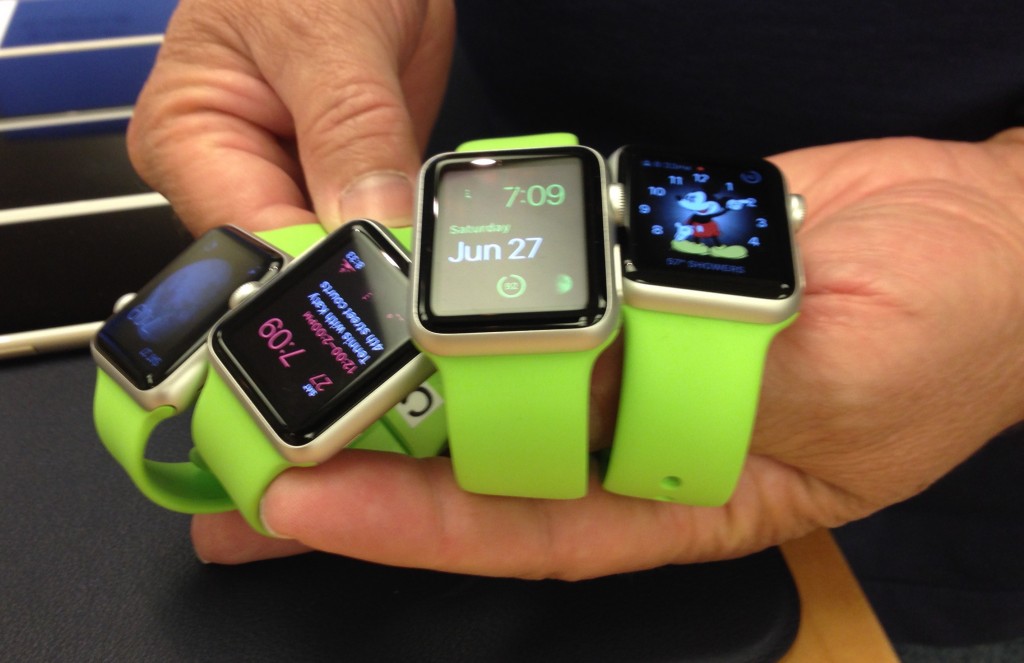 I'll sum it up with a story:
My husband knew I was going to buy the watch, but we hadn't really discussed it. When I ordered it, I had it sent to the office so I could break it to him gently ("Another watch? Really?"). I also knew that that is where I'd get it the soonest.
The morning after I ordered it, he asked me which one I ordered. Had I ordered the $17,000 gold model?
"I have three questions for you," I responded.
"After 21 years, would I make a $17,000 decision without talking to you?"
"Secondly, if I'm going to spend $17,000 on a watch, do you think it would be an Apple Watch with all the folks I know in the business, or am I going to choose one of the many brands I've coveted for years?"
"Third, and perhaps most importantly: Do we have $17,000 lying around to spend on a watch that I don't know about?"