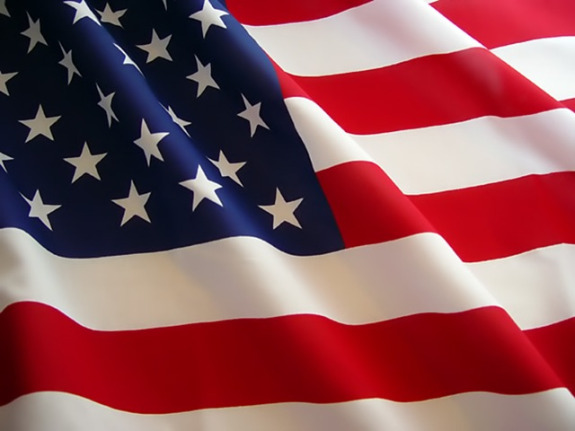 This weekend we celebrate the 4th of July – Independence Day – to honor America's hard-won independence from Great Britain and our adoption of the Declaration of Independence. While fireworks and picnics are the usual fare, this is also a great time to take a look at some really cool red, white and blue watches that can ring in America like no others.
Shinola, built in Detroit, offers the 4 Runwell Titanium Chrono that is part the 2015 Detroit Grand Prix Special Edition collection. Retailing for $1,100, the 42mm watch is the Official Timepiece of the Detroit Grand Prix. It features a rich blue dial, blues trap, titanium case with double dome sapphire crystal and Super-LimNova hands. The movement is a Detroit-Built Aragonite 505 quartz movement assembled using 103 pieces. The blue rubber strap is made by Stern Manufacturing in Stples, MN.
Kobold, building watches from a location just outside of Pittsburgh, brings us  the blue-dialed Soarway GMT watch that indicates the home time via an independent hour hand and a 24-hour scale printed on the dial. The stainless steel case is built in America using important components. This watch, limited to 100 pieces, sells for $4,050.
RGM, building watches from a location just outside of Philadelphia has a much more traditional take on time and watchmaking, but we are particularly fond of the brand's 455 Classic Chrono with red and blue dial accents that retails for $3950.
Devon Works, building its watches in California, is a truly dynamic brand. This company– on the cutting edge of technology — makes its watches in cooperation with an aerospace firm and offers some of the most advanced technology on the market.  While the Tread 1 is its famed namesake, we have to take a good look at the Tread 2 today because of the bold red hue of this particular version.  The Tread 2's movement — like the Tread 1 — displays   time using a patented system of Time Belts with hours displayed on the horizontal belt and minutes displayed on the vertical belt. A seconds display function can be operated through the watch's crown lever and push button. This watch is on the higher end of our American scale, with prices over $10,000.
Then, because we just can't help ourselves when it comes to American watchmaking history, we have to do a shout out to two brands founded in America more than a century ago that are still going strong. While their watches may be made off-shore now, they are still beating to an American heart beat.
Also first born in America (though now headquartered and making watches in Switzerland), Hamilton Watch Company, which was founded in Pennsylvania in 1892, produced its first watch in 1893 and became a very integral player in supplying watches to the American military during the World Wars. A cool winner from this brand is the Pan Europ Automatic — a 42mm stainless steel watch with automotive inspirations, tachymeter bezel and 80 hours of power reserve thanks to the H-30 movement. This watch sells for a fast $1,195. It is shown here on a red, white and blue Nato strap.
Can it get more American than Bulova and Harley-Davidson? This $225 Harley-Davidson watch by the 140-year-old American-born brand, Bulova is crafted in stainless steel with a 43mm black-coated case and bracelets. The watch features luminous hands and markers and the Harley-Davidson logo on the dial. Joseph Bulova, a Bohemia immigrant, founded Bulova as the J Bulova Company in 1875. This brand was famously patriotic and dedicated to the American Dream. By 1945, it had established the Joseph Bulova Watchmaking school to help rehabilitate disabled veterans from World War II and land them jobs in watch service and repairs.
Enjoy the Fourth of July!