Just about four months ago, I was fortunate enough to travel to Paris and Switzerland with Breguet. (You can read about that trip here, here and here.)   One particular night during that trip, I met a gentleman wearing tomato-soup-red pants and sporting a Swatch watch on his wrist. We got to talking and – turns out – the gentleman is an avid Swatch watch collector. A big collector who has hundreds of  Swatch watches.
We got to talking. You see, I remember when Swatch was born in 1983. It was a top-level executive at ETA, Ernst Thomke, who led  a team of enthusiastic engineers to consider making the caseback of the watch the movement plate. The idea was to garner attention to the Swiss watch industry with thinner, creative quartz watches. It was a couple of years later that Nicholas G. Hayek took over Swatch as he formed SMH (a long story-meant for another day), and really put the brand on the map, so to speak.
As I talked about the start of Swatch as I remembered it, I asked this collector what got him hooked. He said simply, "It was a revolutionary watch for its time. Each one had such a great theme, a story, and you could have fun with it. They weren't expensive and it was easy to spend some money on a cool hobby. I started collecting Swatch watches in the late 1980's and got hooked on it. I bought new ones as soon as they came out, but then I had to find specific older ones, and buy them, too. It was like a fever I had." He says that throughout that first five years (1988-1993) of "fever" he collected and purchased new – more than 400 Swatch watches.  Today, his collection is quite significant. "I had to slow down. I didn't know where to put all the watches I had bought. I still buy some today, but only the ones that really strike me. Like anything, you have to curb your addiction."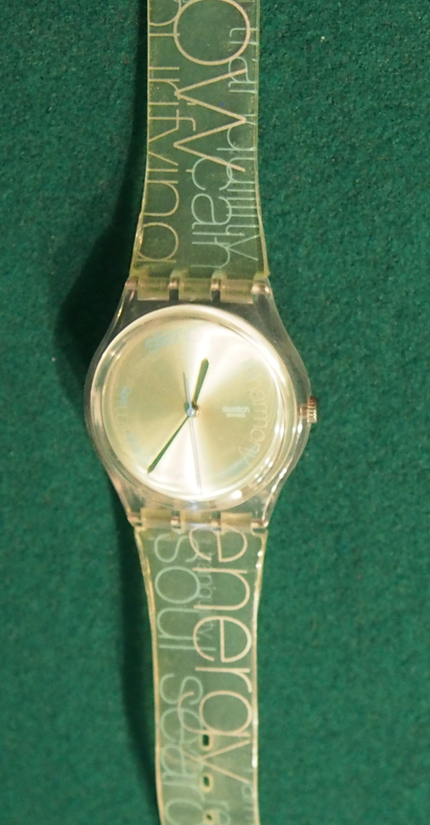 He sent us some pictures of his early Swatch watches – some of which he says he wears, and others he keeps in the boxes for safe keeping and, perhaps, future higher values. It got me to thinking. Recently, I sat with a bunch of collectors admiring their watches, and a couple had Swatch  watches.  They were nice. You couldn't say "Hey, what are they doing here?" They're collectibles, too – just in a different sort of way. If you have pics of your Swatch watches, feel free to share as well. Enjoy.