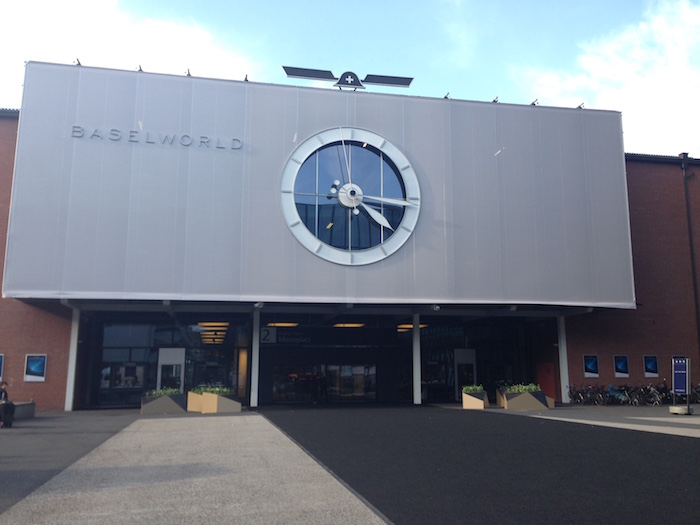 We are officially back.Easily the biggest watch exhibition of the year, BaselWorld is a beast waiting to be tamed.This year we worked eight days straight from 8 am to 10 pm to cover the show. In fact, over the course of the eight days there, we saw nearly 100 watch brands — and saw dozens of timepieces from each brand. With visions of thousands of watches dancing in our heads, we endeavor to makes a little sense of it all and highlight some of the key trends and the key announcements.
Trends:
We saw jaw-dropping watches, innovative new technology and — best of all — friends and colleagues. There were some notable trends this year that included refreshingly affordable prices. Yes, there  were still the $18- and $40-million dollar watches, but for mainstream America, prices seem to be approachable. Brands such as TAG Heuer (which announced a reduction in prices at retail around the world), Hamilton, Tissot, Bulova, Frederique Constant and Seiko are offering top quality form and function at respectable prices well below the couple-of-thousand-dollars mark.
As to trends: Blue and beautiful reigns. Practically every watch brand there — from the small to the big — had a blue dialed watch in its stable. For men and women alike, blue is the new hue. Green — in enviable shades that mime grass and meadows — was also a prevalent color. Sports watches – especially dive watches and chronographs — continue to be important,as well, with more brands delivering unusual chronograph readouts and deeper-dive watches.
Skeleton watches — or watches with mainplates showing — are all the rage in timepieces from a few thousand dollars on up to a million. Skeletonizing a watch is no easy feat — some do it using machined parts cut as tiny as possible, others at the luxury end do it by hand – finishing and engraving every single visible and non-visible part.  In both cases, the result is an intriguing look inside the workings of the watch.
Announcements:
Easily a hot topic at this year's BaselWorld was the absence of Apple as an exhibitor and the influence of Smart technology on time. In fact, brands such as Frederique Constant, Alpina, Mondaine and others were unveiling their SmartWatch technology. (You can read more about this here.) Additionally, brands such as Breitling and Bulgari unveiled their "connected" timepieces (we will be unveiling those in the coming days), and TAG Heuer held a press conference to announce its partnership with Google and Intel designed so the trio can  develop the perfect Smart Watch.
Sports and celebrity announcements were also prevalent — one could expect no less at BaselWorld where time and its fast-paced relationships take center stage. Among the announcements: Armin Strom comes forth with sponsorship of the GumBall Rally (and with watches to match, which we will be showing in the coming days), Bremont announced its full partnership with Jaquar, and Ritmo Mundo secretly told us of its soon-to-be-announced celebrity ambassador. Celebs were seen in the halls and after parties at BaselWorld, as well, with singers such as Eric Singer of Kiss and Will.i.am from Black Eyed Peas (wearing a Gucci Smartband) making an appearance.
Dinners,  Parties and People:
Of course, no BaselWorld is complete without the dinners, parties and after-parties. This year, because it was my birthday during BaselWorld,  and because I was sick with a bronchial infection, I cut way back on my parties. I attended a few of the most important parties — including the TAG Heuer event held at a brewery turned nightclub, and the Independents' Night (held by the independent watch brands that display their superb timepieces in the BaselWorld Palace)  — also at the SUD brewery turned nightclub. There were also parties at castles, parties at museums and parties in the middle of no-where in factories transformed to look like another world. I also indulged in some very special intimate dinners with the closest of friends from within the industry. These are the nights I love the most.
Many people ask me what it is about the watch world that has held me captive for 30 years and counting. I can say it is the vibrant pace, the innovative thinking, the visionary timepieces, the incredible craftsmanship. I can say it is the beating of a mechanical watch, the ticking of its heart. But, I can also honestly say it is the people. The watch world is like one big family. Sure there are the black sheep, and maybe the not-so-favorite cousins, but all in all, it is the people that breathe life into this fascinating world. And every year at BaselWorld- I get to see these people in one place — to laugh, to talk, to share and to renew our friendships at the best home-coming event in the world. In fact, it was catching up with friend after friend  that made the long experience way too short.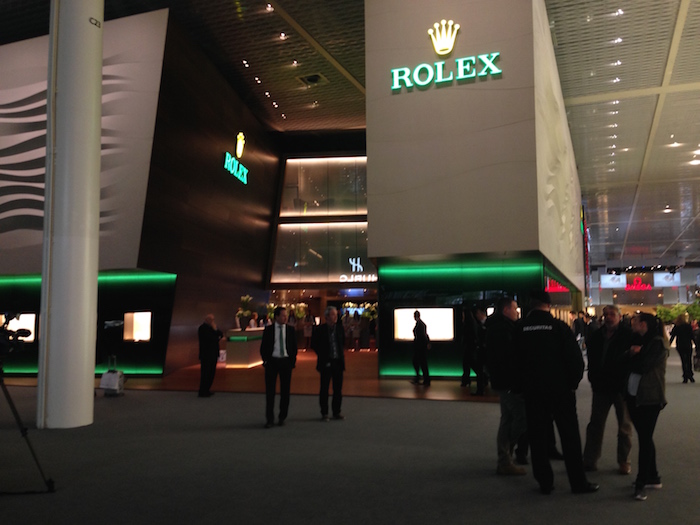 Afterthoughts:
Because I celebrated my birthday in BaselWorld (a recurring theme, I fear), I had some very special moments –including a superb dinner with AnaMartins PR and my friend of more than three decades, Norman Miller. I want to thank all of the watch brands that made the day  special — including deGrisogono, who surprised me with a birthday cake (complete with candles and song), Blancpain, which surprised me with a birthday fruit platter and sparkler, and others who shared champagne and well wishes throughout the day.
In short, while BaselWorld may be a bit grueling with what seems like impossible appointment schedules, it is, in fact, one of the most rewarding experiences of the year:  Exciting new watches, new ventures and new directions.
In the coming days, weeks and even months, we will try to share that news — and to show the BaselWorld watches  that will make their way to markets around the world this summer and fall.