This past week was a huge one for the big auction houses in New York City. Several sold incredible watches – many owned by famous folk such as Elvis Presley and Henry Graves – for pretty interesting prices. So many of our loyal readers have asked for some insight into what sells at auction and what's worth buying. Here we recap some of last week's great sales.
An Omega Constellation that belonged to Rock 'n' Roll legend Elvis Presley sold at Antiquorum's New York auction of "Important and Modern Vintage Timepieces" for $52,500 (five times its $10,000 estimate). The Omega Black Dial Constellation Calendar watch was gifted to Elvis' long-time friend and confidante Charlie Hodge, a musician who played with Presley and who was honored at the 2007 Rock and Roll Hall of Fame induction ceremony. Hodge recalls, "… several times I told Elvis how beautiful his watch was … and he took it off his wrist and gave it to me."
The self-winding, center-seconds, water-resistant, stainless steel and pink gold-capped chronometer wristwatch with black dial was produced circa 1960 and was selling with a letter of attestation signed by Hodge. It was an interesting piece, since Presley had held a long relationship with Hamilton watches and had a great number of those in his collection; the Omega was a rare piece.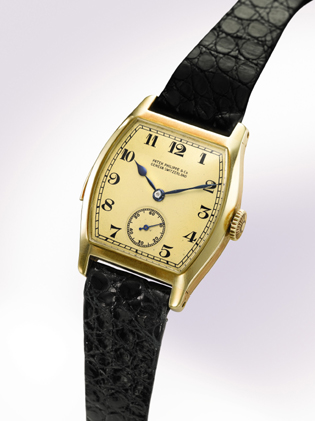 Other notable lots that sold at that auction (there were 269 watches for sale, and the combined auction total was nearly $4.5 million) included a rare Patek Philippe, Ref. 5016, tourbillon minute repeater in 18K yellow gold with a custom grey dial that sold for $542,500, and a Lange & Soehne "Pour le Merite" in yellow gold went for an strong $188,500.
At Sotheby's spring auction, more than $8 million was made on sales at the "Watches from the Collection of The Late Reginald H. Fullerton, Jr. and His Grandfather Henry Graves, Jr." auction, which saw dramatic leaps in bidding as collectors vied to own a piece of the finest private collections of watches ever assembled. The top seller was The Henry Graves, Jr. Yellow Gold Minute Repeating Wristwatch by Patek Philippe that sold for $2,994,500, soaring above its $800,000 high estimate to achieve the second-highest price for a wristwatch at auction worldwide.
While these are astounding achievements in the auction world, proving that vintage timepiece buying is an ever-important category, for those who aspire to vintage watches, there are a great number of superb timepieces at much more affordable prices. We will keep you abreast of the auctions upcoming for such details. Stay tuned.