For a small watch brand, Maurice de Mauriac has one very big presence. This brand, which we have written about before here, has made amazing strides in its 16 years of existence thanks to the foresight and innovative thinking of founder Daniel Dreifuss. Located in Zurich, Maurice de Mauriac watches are hand crafted, with just a couple of hundred
timepieces made each year – and  each is a work of   sophistication and top watchmaking. Additionally, via a modular system, many of the watches are easily custom designed.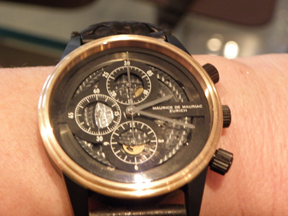 Recently, we had the chance to really get to know Daniel Dreifuss and to see and touch a few of his most amazing timepieces. Previously an investment banker, Dreifuss is methodical, creative and genuine – a rare combination.  "It is not my goal to be a big brand," says Dreifuss. "I just want to make something nice and well crafted, that is mine and that people enjoy wearing."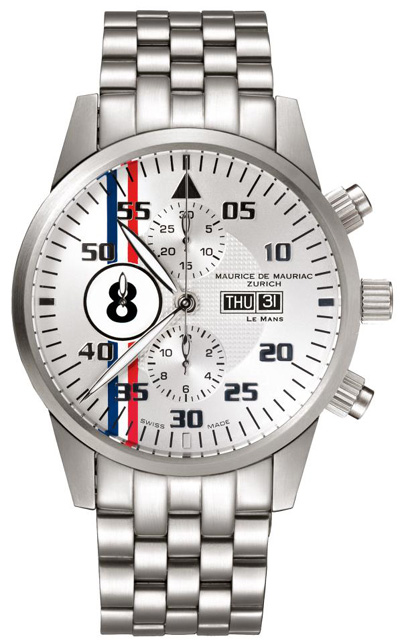 Indeed, Maurice de Mauriac timepieces are sought after by collectors in the know, by watch lovers and even by auto racing enthusiasts. In fact, he recently created a magnificent car-inspired watch that has thousands around the world talking. Maurice de Mauriac watches are equipped with the finest straps – from leather Dreifuss has specially done for him, to NATO straps and braided straps for women. Additionally, he utilizes top-quality movements in his watches, including Concepto and Valjoux.
Also new is his very first tourbillon watch – a masterpiece of elegance and craftsmanship. "I design each timepiece slowly, for the most challenging clients. The tourbillon was a natural step for me."
Dreifuss indeed designs s slowly and methodically. He takes his time with his pieces so that they are perfect in his eyes before he even shows them to customers. A lover and seeker of  colors, he has adorned many of his newest watches with color crystals – blue, brown, amber, red – for a different look that sets these pieces apart. In fact, he himself embraces color. At any given time – on weekdays – he is wearing colorful striped shirts and complementary scarves that his daughter makes for him. If it's a weekend, though, the striped shirts (about which he says the stripes let the creative energy flow) remain in the closet, exchanged for checkered shirts intended for a relaxing weekend sojourn.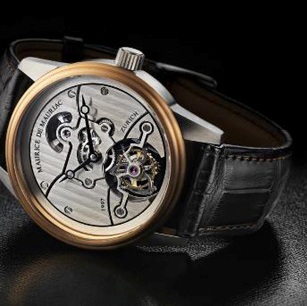 Among other new pieces unveiled recently is the PVD coated steel Skeleton watch – housing a Valjoux movement and grabbing attention with ease.  Dreifuss also produces stunning Maurice de Mauriac moonphase watches, modern and classic chronographs, modern and classic automatics and a line of Maurice de Mauriac tonneau and square timepieces – all with mechanical movements. The line retails for anywhere from approximately $1,400 to $3,800 depending on the watch model, and goes up to $14,800 for the large 18-karat gold moonphase beauty. The new skeleton starts at approximately 6000 Swiss Francs; and the tourbillon, which can be customized, starts at an amazing 45,000 Swiss Francs — thereby offering amazing value for the product.