Today's finest watch brands are bringing the mechanical magic of timepieces to ultra-feminine levels, with a move toward women's watches with tourbillon escapements. One of the most complicated and coveted horological feats, the tourbillon ("whirlwind" in French) is a highly precise mechanism that eliminates errors in timekeeping caused by the force of gravity when a watch is in certain positions.
The tourbillon escapement is immediately recognizable thanks to the entrancing dance of the constantly revolving mechanism, which further underscores the beauty of the piece. Incredibly difficult to build, the tourbillon has become the object of watchmaking competition, as brands strive to invent ever more advanced tourbillon timepieces. The most recent direction: women's tourbillons.
The creation of women's tourbillons is a deft blend of top-notch Swiss craftsmanship and innovation. Built only by master watchmakers with dozens of years of experience, women's tourbillons are ever more challenging to bring to fruition than men's tourbillons, as typically the movement parts are smaller.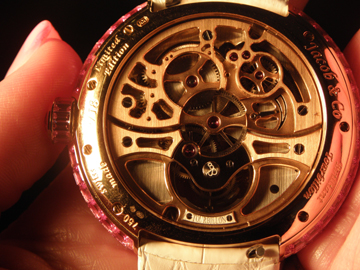 This Jacob & Co. Pink Sapphire Brilliant Tourbillon, crafted in 18-karat gold, features a one-minute flying tourbillon that is mesmerizing in and of itself. Enhancing it further, Jacob & Co. has meticulously set the watch with 400 baguette-cut pink sapphires weighing 36.75 carats total. The cost – about as much as a nice house in New Jersey — $810,000.