Star Trek cult members well remember the phrase, spoken on the intro of the show by Captain James T. Kirk, "Space: the final frontier."  But is it?   William Shatner, the man who played the famed and beloved captain, has embarked on a new voyage – exploring the strange new world of time.
Working together with US-based Egard Watch Company, William Shatner unveils a collaborative watch collection called "Passages" by Egard. Shatner is deeply involved in the concept of the Passages line, which will be out in Spring 2014.
"All things become one eventually, that is the passages of time," says Shatner. "Every decade, more or less, has a passage and it is those passages that I   named the watch for."
Passages is a signed, limited-edition watch with a host of special features. Journeying where no man has gone before, Passages features a unique curved case built exclusively for Egard, and an automatic movement fitted with a customized sun/moon disk with 24 hour indication. There is also an open aperture to view the mechanics of the watch.  According to Shatner, having the open work to see the oscillating movement, and offering the sun/moon dial was a necessity in the design.  "Our hearts and passions are what drive us through the days and nights of our lives," says Shatner. "Time becomes so precious that you want to push as much into every moment that you can. You want to fulfill every passage of time."
To further solidify the concept of the passages of time, the watch features authentic meteor dust on the AM/PM disc, as a nod to incorporating elements from the present that date back to the moment of creation of the universe itself. Each dial is a stunning work of art thanks to a multi-layered, multi-textured (including carbon fiber) presentation. Each watch is numbered and the caseback is engraved with William Shatner's signature.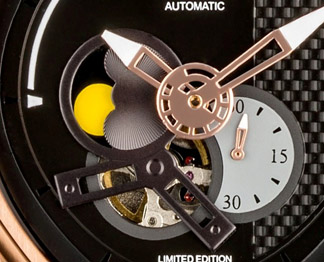 "I want the watch to endure, like time, and so to do that you need clarity and simplicity; it has to perform the functions and then you need the form – that's what we are about," says Shatner. "We are creating a work of watch that you will fall in love with and want to pass it on to someone you love."
Interestingly the launch of Passages by Egard is being crowd funded via IndieGogo  – and within two days the project surpassed its goal of raising $75,000. Today, it has raised nearly half a million dollars- as people are pre-purchasing watches – an opportunity that is open to anyone  until the campaign ends on 11:59 pm on December 27th, 2013.The uniquely shaped watch is offered in either stainless steel, or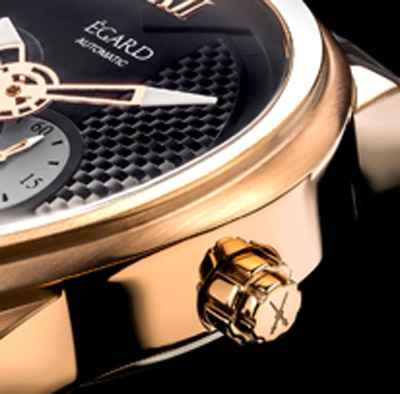 in black, rose gold or gunmetal IP finish. Each is made in a limited edition of 999 pieces, and – if pre-purchased on IndieGogo – each sells for $399 instead of the price it will retail for next spring: $1,199.  There is also a version sold in a box set (again on the crowd funding site) for $550, that will include a watch finished in the color of your choice, sold with a leather strap and a metal bracelet, a watch winder and a cool USB that goes behind-the-scenes with Shatner.