A few weeks ago we answered the question, "What is a Chronograph?" and promised to bring to light the difference between a chronograph and a chronometer – terms that are often mixed up in today's world. In fact, a chronometer is a watch that has undergone stringent testing under laboratory conditions and is then certified as having passed those tests by that testing institute.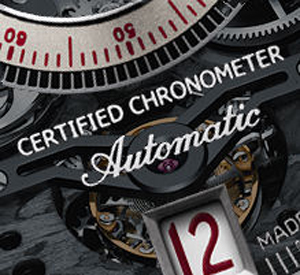 The official Swiss Chronometer Testing Institute is known as the Controle Officiel Suisse des Chronometres – or C.O.S.C.  This institute is responsible for certifying the accuracy and precision of chronometer watches manufactured in Switzerland. Watches made in other countries have other testing facilities. In Japan, for instance, most chronometer watches are tested in-house and are held to slightly stricter standards. In Germany, the Glashutte Observatory in Saxony tests and certifies chronometers according to standards that mirror those used by COSC.  The French (to a much lesser extent) use the Observatory at Besancon and their certifications reads Observatory Chronometer.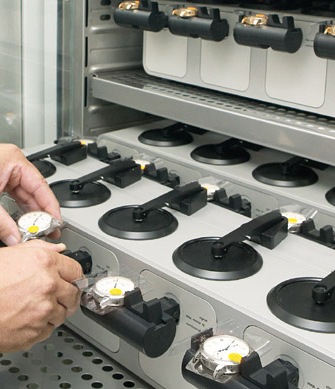 Swiss watch manufacturers can choose to submit their chronometer timepieces for testing to one of three different laboratory facilities located in Biel/Bienne, Geneva or LeLocle.  The testing criteria, based on ISO 3159 standards, requires each piece to be tested for 15 days in five positions at several different temperatures. A list of requirements must be met before the mechanical watch can be said to have passed, including an average daily rate criteria of -4/+6.  Each officially certified COSC chronometer is identified by a serial number that is engraved on the movement.  It is estimated that just about 3 percent of Swiss watch production are COSC-certified chronometers. A top-performance chronometer can also have chronograph or other functions built into it. Watch brands with
a strong number of their chronometer watches COSC certified include Rolex, Omega, TAG-Heuer, Panerai and Breitling, which claims that all of its timepieces are COSC certified.
Other aesthetic and technical haute horology certifications also exist, including "The Fleurier Quality Foundation" and the "Geneva Seal" – but these will be discussed in future Watchmaking Education articles. Stay Tuned.