Affordable Watch Wednesdays have become a continuous theme here at ATimelyPerspective to highlight the logical side of luxurious timepieces. We've recently had the opportunity to wear SEIKO's Astron GPS Solar Chronograph 8x series, model SSE017. In short, it was a very satisfying experience.
There's a range in quality and an overall feel of an "affordable" watch. It's quite easy to tell, even while still in the box, the Astron GPS Solar is at the top end of the spectrum when it comes to timepieces within this price range.  For one, the 45mm black ceramic bezel and black ion finish provides the sleek slate for the bright orange indicators and hands to create a modern looking and feeling piece. This watch truly does shine.  Even at night the Lumibrite hands and markers make for an easy and quick time read.  The watch face is finished off with the sturdy sapphire crystal coated with SEIKO's very own "super clear," anti-reflective coating which gives it a surprisingly glare-free finish even on Southern California's sunniest days.
SEIKO has a tendency to strive to continuously add innovative technology to their timepieces. Having already set the global standard in quartz watches by incorporating the affordable movement into their pieces in 1969, the brand looks to set a new norm by introducing another new first. The GPS Solar Chronograph is the first of its kind making it a very amazing timepiece in and of itself.
The watch can sync the exact time to precision easily just by holding down one button for six seconds. The connection effectively makes the watch as accurate as an atomic clock as the satellite capability quickly determines the watch's position within the 39 global timezones. Not only does this ensure that the time is correct but it means the calendar function is spot on as well. Additionally, the solar power behind this watch makes it the type of watch that you simply never have to worry about. It's always accurate and always charged, that is, as long as you don't live in a bunker.
What stood out for me overall was this watch's comfort. My job required me to do some heavy lifting and overall manual labor here and there. Usually whenever my work takes me in that direction it's time to ditch the fragile bulky watch. However, I decided otherwise, and wore the watch for the day. It stood up to the test and I hardly knew it was on my arm.  Most of that comfort is due to the Astron SSE017's extra strength silicon strap with its tri-fold push button release clasp. Ultimate comfort is crucial to an everyday-type watch.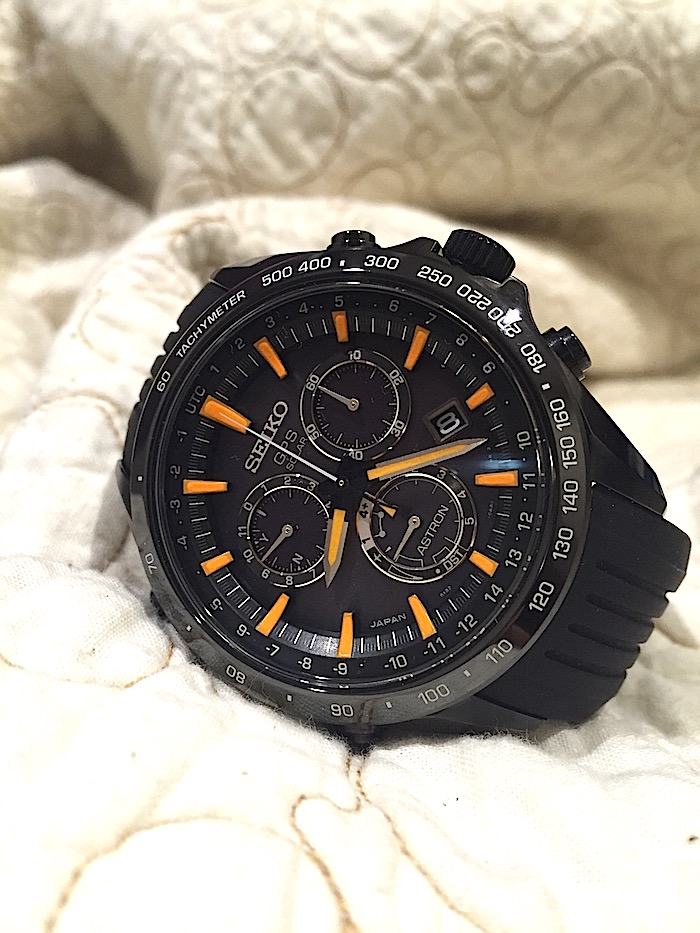 As far as affordability goes, the Astron GPS Solar is in a higher end price range, $1,700, considering it is essentially a quartz movement watch.  However, not only can this watch gain the most precise world time within 40 different time zones connecting to 4 different satellites and solar power technology, but it has a wide range of other quality functions. Specifically the Astron GPS Solar power has a chronograph which is precise up to 1/5th of a second and can record up to 6 hours. Its perpetual calendar is guaranteed to be correct up to the year 2100 and its battery power indicator is always helpful to see if the watch needs to catch some rays.
Considering the Astron GPS Solar Chronograph emits GPS signals, there is even an airplane mode. In fact, right out of the box, this timepiece can be a bit confusing. Though not technically a "smart watch," there is certainly a bit of a learning curve when adjusting to this pieces automated form of functioning. But once you get the hang of it, you can just sit back and let it do what it does best. A very logical watch with a hint of luxurious taste.
For more info on SEIKO's Astron lineup and other models visit here.