Earlier today, the seventh annual Space History auction from Bonhams took place — on the very same date that marks the 50th anniversary of America's first spacewalk. Among the many rare and coveted items up for auction was astronaut Alan Bean's 18-karat gold Omega Speedmaster Professional watch.  The timepiece fetched $50,000.
During the Apollo 12 mission, Captain Bean acted as the lunar module pilot, alongside Commander Pete Conrad. Apollo 12 was the second mission wherein man walked on the moon and Bean was the fourth man to walk on the moon.  Bean's 18-karat rose gold Omega Speedmaster Professional Chronograph wristwatch  (Ref. BA 145.022) houses the caliber 861 with 17 jewels and an inscribed casebook that reads:  "—Astronaut Alan Bean— to mark man's conquest of space with time, through time, on time. Skylab Mission II  Apollo 12."  This Apollo XI model was created by Omega (the brand that holds the prestigious Snoopy Award from Nasa) in 1969 to commemorate that mission's successful moon landing on July 20, 1969. Exactly 1014 were produced (and the first 30 were given to President Nixon, Vice President Agnew and the 28 astronauts). Bean's watch is number 26 of those 30 pieces.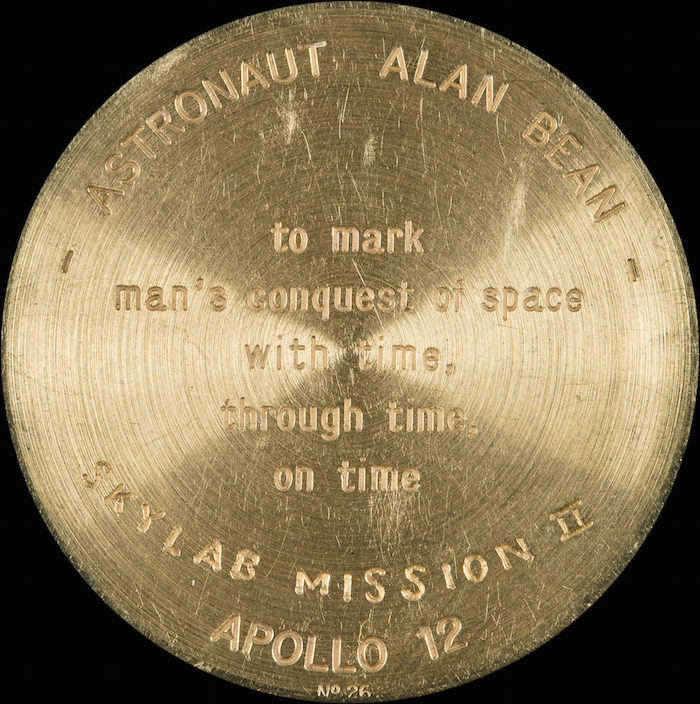 Also up at the Bonhams auction:  Bean's  portable life support system waist strap that accompanied him during his 7-plus hour exploration of the moon's Ocean of Storms, Bean's lunar module water dispenser (that doubles as a fire extinguisher assembly),  and a framed "artwork" consisting of meal pouches (containing dehydrated peaches, grapefruit and spaghetti) that accompanied him on his mission.