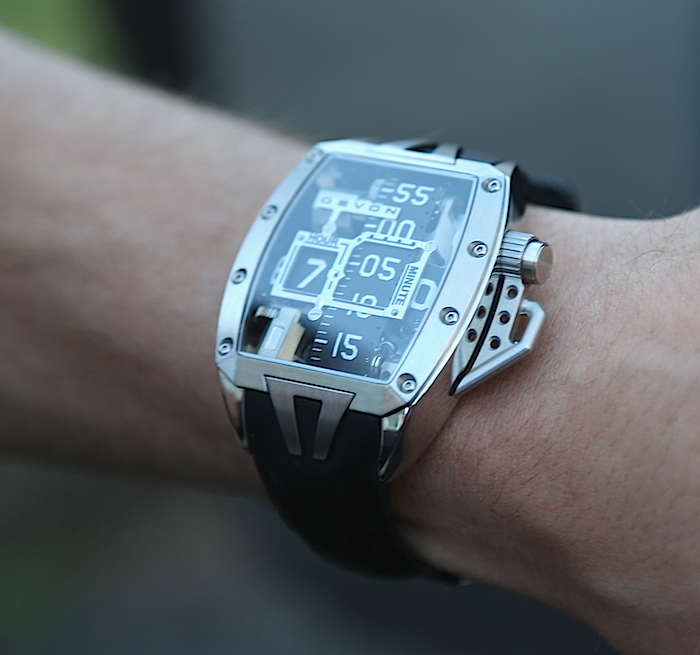 Swiss and top German watch companies tend to be credited as the more innovative and original brands on the market when it comes to watches. However, the Los Angeles-based Devon Works challenges that notion entirely. "Made in the USA" or perhaps more specifically "Made in California" is now something to be proud of, especially if you're wearing a Devon watch on your wrist. Scott Devon, the brand's founder and creative director (and designer of the  Devon GTX supercar) has developed products that embody the American spirit of innovation and freedom.
We've had the pleasure in the past to delve into this amazing brand and explore their Tread 1 (which you can read about here) and other  patented, very inventive engineered-technology watches. Now, we bring you  the revolutionary Tread 2 Shining, which we recently had our hands on.
The ingenious new system of fiberglass-reinforced Nylon Time Belts©, (which are just 2/1000ths of an inch thick and come from Boeing 747 cockpits meters) sits inside a 42mm x 44mm stainless steel case and is guarded by a 1 mm thick sapphire crystal to display its 223 components. The Tread 2 is surprisingly lightweight (90 grams) considering how many unique and exciting features it contains.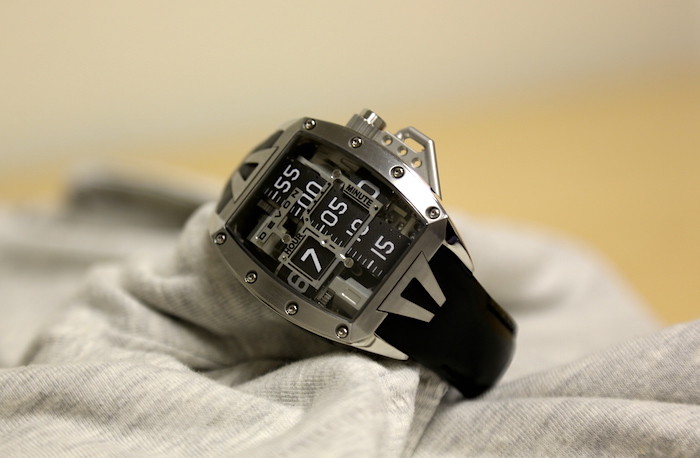 The Tread 2 has plenty of settings, including time set, chronograph, battery indicator and seconds mode, all of which you can rotate through by using Devon's ingenious push crown lever system. The video below will demonstrate how the watch cycles through each mode. The revolutionary time belt design is viewed through two windows labeled as "hours" and "minutes" that cycle horizontally and vertically, which make for a fast and efficient way to read the time.
Innovation and wow-factor aside, this watch a fun to wear. Its originality alone attracts attention and fascinates an audience. It's really fun to switch between modes to experience how intuitive this watch is. The smallest details make a big difference where something as simple as pushing and holding the crown versus just pushing it in sets the watch into two completely different settings. The crown lever is a very inventive way to put the watch in seconds mode (if held down for 2 seconds) or to put the watch in chronograph mode (if held up).
The watch makes a "tick" sound every time the belt moves. It is subtle enough to be inaudible with surrounding noise, but loud enough for you to hear if its quiet or near your ear. I found this feature took a little getting used to but eventually made for a really enjoyable wearing experience. It helps you realize how fast time ticks by, which for me, is a way to ensure I waste as little of it as possible.
The Tread 2 hybridizes mechanics and electronics by using a lithium-polymer battery, rather than a mainspring to power the watch. The battery charges with an electromagnetic induction system that begins charging wirelessly when it is in its case (the case must be plugged into an outlet). To avoid overcharging and depleting the battery's life this intuitive technology halts the charging process once the battery is fully charged. With a push of the crown the watch will indicate the battery power with a number between 1-10 in the minute window. All of this stored power is used to operate small motors inside which are controlled by a microcomputer running on Devon Works' software.
In short, this watch has a lot to offer.  It is captivating and attractive and its industrial design really does epitomize an American style. The more you learn about the inner technology and mechanical developments the more you fall in love with it. Not only will it accurately keep the time (with a deviation of a half a second per day), but also, it conceptualizes time in a way that will increase your productivity.  This industrial Devon Tread 2 Shining version is priced at $10,950. There are a host of  different versions of the Tread 2 –with an array of color schemes and finishes — that you can check out here.