When you think watches, you think something that can stand up to the test of time. A personal item with an emotional attachment you can pass down from generation to generation. And when you think technology you think something that is ever-changing. An item made to be obsolete, to be replaced just months later. It seems a technologically advanced watch is counterintuitive, contradictory. Making a smartwatch is almost an oxymoron.  How can you have a timepiece rooted in tradition, beauty, precision and passion and have it also be equipped with the most up-to-date technological functions? Well, now you can. The new Swiss Horological Smartwatch Platform from Geneva-based Manufacture Modules Technologies (MMT) is the answer.
The new Swiss Horological Smartwatch, powered by MotionX(R), is an all-new platform and approach to the smartwatch industry. Before we describe the new technology, we want to give a bit of background.  Swiss watch brand Frederique Constant (and sister brand Alpina), partnered  with the Silicon Valley tech company, Fullpower, to create MMT in Geneva and together they have built a beautiful –yet connected — horological watch powered by MotionX-365.
Essentially, MotionX manages the bi-directional communication between the watch and the phone or tablet. In complete contrast to other smart devices, where the data is shown digitally on the watch, the information is read in an analogue fashion via the sub dial. The partners will be releasing a combined 10 different models of top-notch watches for both men and women.  Frederique Constant leads the way with its business-style brand,  while its sister brand, Alpina, will market the sports watch. Mondaine will stick to its iconic SSB Swiss Railway design.  Each of these brands did not have to forgo their values or designs in order to make the watch "intelligent."
The design and aesthetic beauty of each brand's piece was uncompromised. We are looking at three different versions of a Swiss quartz watch that offer a host of additional smart information.  The big question that everyone wants to know is how long can the battery last? The answer: 2+ years.
In short, MMT has conquered the challenge of making a quartz watch that manages the tech components in a way that limits power usage to just the right amount–  resulting in a goldilocks effect. For example: the watch can connect to your smart phone (android or iOS software device) by using the Bluetooth capability in the phone. However, the technology in the watch isn't quite Bluetooth itself. It's an in-house, Motion X component that uses just the right amount power to get the job done without overdoing it.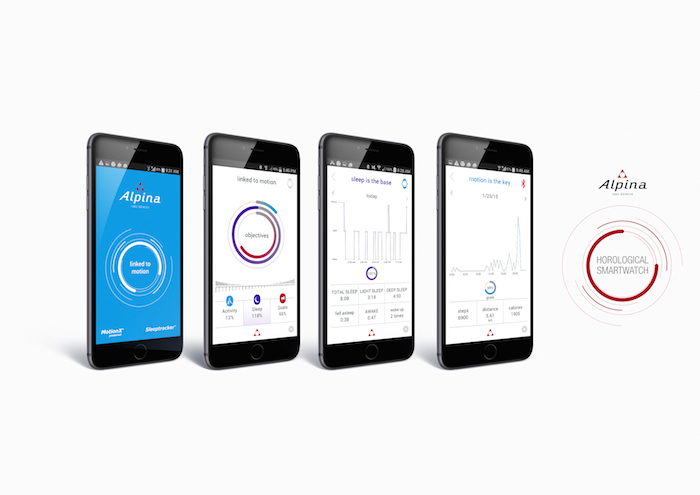 The dial displays the hour and minute indicators (leaving out the second hand for power saving reasons) and the time is automatically synced upon connecting your watch to your smart phone. Thus the watch will always show the correct time and date no matter your travel plans. The connectivity continues, as we learn that the watches are furnished with Motion X's activity tracking, as well as with "get active" alerts. This encourages its wearers to reach their daily goal for calories burned, which you can set using the smartphone app. By using the push crown to activate sleep mode, the MMT platform will track your sleep and utilize sleep cycle alarm technology.  This technology will wake you from your slumber at just the right cycle of rest. Of course, all of this data can be tracked real time with the smartphone app.
In capturing the excitement, Alpina CEO Guido Benedini stated, "A watch is not only a measure of lifestyle, such as taste or income, but now it can measure lifestyle." These new Horological Smartwatches are the best of both worlds.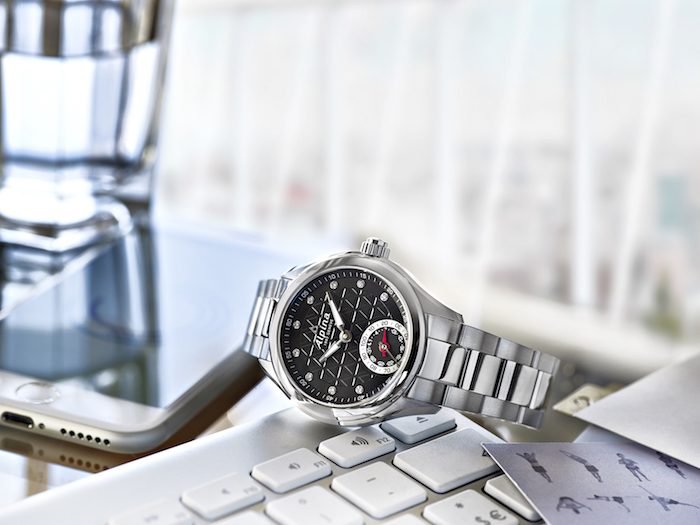 Perhaps what sets this smartwatch apart from its counterparts (besides a focus on a dial geared more toward analog lovers) is its MotionX cloud infrastructure.  So far, we've seen watches that can be tracked via a smartphone app, but the MMT platform goes one step further by offering regular updates to the software within the watch.  Besides the ability to update the software wirelessly, these brands have promised consumers that as technology advances, they will replace the hardware behind the platform; switching out the old for the new.  This would be done with the standard 3-4 year service that takes place normally with their non-smart watches.  That is the plan at least. Recognizing that this line of smart watches is certainly holding back in the data department (it refrains from an all-connected model like that of the Apple watch to receive text and phone alerts), MMT not only acknowledges there is room for improvement, it welcomes it.
When asked about his thoughts on MMT's future, Frederique Constant's CEO (also MMT CEO) Peter Stas replied, "I'm really excited about this. This is just the beginning.  We hope to see our technology adopted by other watch brands in the years to come."
That is perhaps one of the most exciting details about this unveiling. These partners aren't just showing us their models that will be out for sale this April. They are showing us the technology they have developed that can be embraced by other watch companies. In fact, it is the mission of MMT to bring the MotionX-365® Horological Smartwatch Open Platform to the Swiss watch industry. In addition to Frederique Constant and Alpina, the first watch brand using the technology is the iconic Mondaine Swiss Railway watch, which has incorporated the technology into its new Helvetica line.With an obvious sense of obligation, these companies, fueled by their passion for craftsmanship and innovation, have revolutionized the Smart watch industry.
It seems only fitting that the origins of this sure-to-be-successful partnership derive from a tech company from Silicon Valley and the Union Horlogere Holdings. Such a breakthrough could not be achieved by one mind, but many like minded individuals all sharing in the same history and passion, emotion and precision.
All of this news was delivered at a press conference and cultural event a few nights ago in San Francisco. The night started with an appearance by world renowned violinist Elizabeth Pitcairn who played on her Stradivarius of 1720. She truly embodied the spirit of the evening: an evening where we learned that MMT has  developed more than just a smart watch; they've made a watch that is smart.