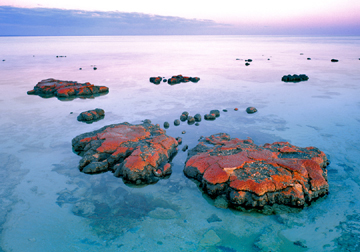 Louis Moinet is a brand we know and love. The creator of these incredibly advanced timepieces regularly utilizes some of the rarest materials on earth for dials – and this newest watch may top them all. The Red Stromatolite is the worlds' oldest known fossil – dating back 3.5 billion years. The name is derived from the Greek words Stroma (carpet) and Lithos (stone). The stromatolites are limestone structures formed by the trapping and binding of particles by microorganisms.  It is believed that stromatolites helped create a dioxygen-rich atmosphere and that the dominated marine life between 3,500 and 500 million years before more complex forms of life (mollusks and crustaceous) brought about their decline. Today, red stromatolite is extremely rare, exisitn in only a handful of places on earth.  The red stromatolite used for the dial of this Louis Moinet "Treasures of the World" watch hails from Western Australia, where it is found in shallow hyper saline lakes and lagoons that are mostly inhospitable to other organisms.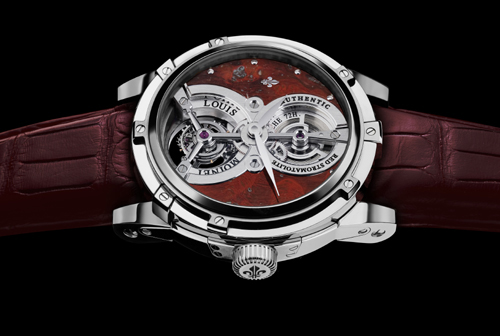 The Swiss-made masterpiece is crafted in 18-karat gold and houses a superb 60-second tourbillon. The dial creation, conducted by Daniel Haas, world specialist in cutting of rare precious stones, is incredibly precise. Each dial is made using a series of tiny hair-thin cuts in the fragile material, and then meticulously polishing and finishing the stone.
Says Haas, "It is always extremely moving to work on a piece of eternity, so incredibly ancient, while seeking to create a product that is a work of art." He explains that each step is demanding, but the last stages are actually the most dangerous. After dozens of hours of work, the final cutting of the piece is done by ultrasound piercing, which takes several hours. The last operation consists of hand polishing the surface and fitting the stone into its brass base — one of the most perilous steps – as the thinner portions of the fossil can easily break.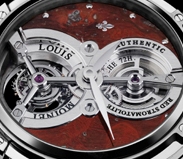 Luckily for those able to afford this watch, several dials made it through the rigorous ordeal to come to fruition on this newest "Treasures of the World"  collection watch.