A young brand,  Urwerk has nonetheless made incredible inroads in the world of fine watchmaking mechanics and innovation thanks in great part to the brand's signature satellite complications. Urwerk's research and development department embraces an anti-establishment sprit – and as such has developed the concept for a mechanical timepiece with integrated intelligence—called EMC.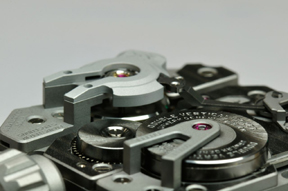 "The interaction between a mechanical watch and its owner is a theme that has always inspired us," says Felix Baumgartner, master watchmaker and co-founder of URWERK. "Designing a reliable and precise mechanical timepiece is the foundation of our work. We wanted to extend our ambition by creating a precision timepiece with a system whereby the owner can accurately calculate the timing rate of the movement so that it can be finely adjusted to the owner's lifestyle and habits. That's the idea of EMC, which we are currently perfecting in our atelier."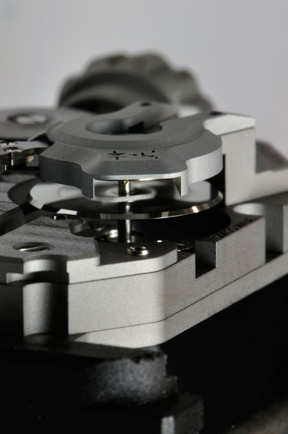 While miniaturization of all the parts to fit into a final timepiece still has to be realized, the general direction is the manufacture movement that features:
– A balance wheel made of ARCAP, an anti-magnetic alloy with anti-corrosion properties. The highly original balance wheel was designed for optimal aerodynamics and minimal amplitude loss.
– Power comes from large double mainspring barrels mounted vertically on a single shaft that provide 80-hours of power reserve, and ensure stable and linear timing performance.
– The timing adjustment screw is accessible on the back of the watch, and enables very fine adjustments to the balance rate regulator by changing the active length of the balance spring.
Additionally, the movement will include electronic parts for monitoring the movement timing. Those parts include:
– An optical sensor on the balance wheel that can capture the precise rate of oscillation of the 4 hertz / 28,800 v/h regulator.
– A 16,000,000-hertz electronic oscillator that provides an extremely precise reference rate.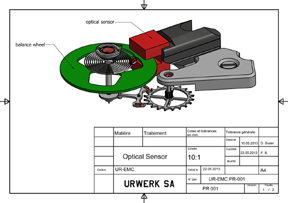 – An artificial intelligence module capable of calculating the difference between the timing rate of the movement and that of the reference oscillator.
For Urwerk, the EMC adventure is up and running, and is the start of something big.