Ok so here we are in Las Vegas at the Jaeger-LeCoultre Boutique at the Wynn for the unveiling of a top-secret timepiece. It is an amazing Master Ultra-Thin Perpetual Calendar! This watch is a winner for sure! It marks the first time the brand unveils a perpetual calendar in such an ultra-thin piece. In fact, the 39mm watch boasts streamlined lugs and a slim bezel – and measures a
mere 9.2mm thin. It houses the Calibre 868, whose perpetual calendar functions can all be changed via a single corrector on the side of the case. One press moves the calendar one day forward. So sophisticated is the 336-part movement that it takes account of the unequal lengths of different months automatically, and of the leap year.
Featuring the same classic elements that Jaeger-LeCoultre reserves for its prestigious pieces, the mechanical masterpiece boasts a harmoniously balanced dial that displays the three counters of the perpetual calendar gracefully. It even offers a four-digit year indicator. The watch is offered in 18-karat white gold ($34,700), 18-karat rose gold ($31,600) and in a Jaeger-LeCoultre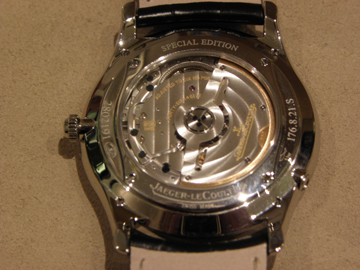 boutique-exclusive stainless steel version. And this one is definitely a steal at an amazing $19,995! Once we return from Vegas, we will bring you a host of original new photos. Stay Tuned.