This year Cartier reverts to history  — reinterpreting ancient arts into watch dial formats that leave us all a bit jealous of those who can afford to buy these masterpieces, and – of course — hungry for more. Among the motifs Cartier utilizes this year: Granulation; Cameo work; Sculpting of mother of pearl; Marquetry and more.
The thing about these works of art from this brand is that they require enormous amounts of time and effort to create these dials – and each is naturally unique. For the Cartier d'Art Rotonde de Cartier Panther watch, a gold dial utilizes the ancient technique of granulation, wherein gold beads form an image. It starts with threads of gold that are cut into granules and heated to become small beads. The beads (granules) are then assembled into place on a previously etched dial with the desired motif, and then fused into place with flame (which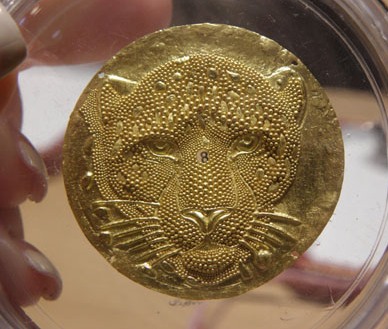 also gives a burnished effect). Each Cartier d'Art Rotonde de Cartier Panther watch is hand-set with about 3,800 beads and takes two months to complete.  Fitted with the Manufacture mechanical caliber 9601 MC with manual winding, the case is meticulously set with 306 brilliant-cut diamonds weighing 3.63 carats. Each of the 20 pieces being made retails for $260,000.
Cartier also unveils this year its
natural agate cameo dial with a crocodile motif. The Rotonde de Cartier Crocodile watch houses Cartier's proprietary flying tourbillon escapement surrounded by a crocodile motif dial in smoky blue and white. The process for creating this dial is similar to the art of creating cameos on shells. In this instance, the artist starts with a thin sheet of  agate and etches the design into the stone,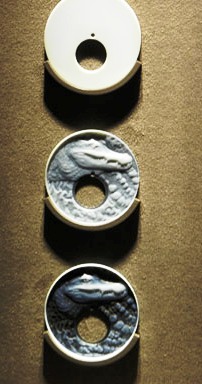 revealing layers of other agate colors, including white and midnight blue, to form the finished dial.
This year, too, the brand releases the newest marquetry dial – of hundreds of pieces of wood – laid into place to form the stunning lion motif.
We will bring other exciting new pieces unveiled by Cartier to you shortly. Stay Tuned.