This entire past week, we devoted time to covering the smart watch, the connected watch and the activity watch – in all its versions. This type of technology is here to stay, and is infiltrating more and different walks of life. In fact, at BaselWorld 2015, Swarovski, the brand devoted to creating stunning branded Austrian crystal works of art, fashion and jewelry, unveiled its Activity Tracking Jewelry line – to add a touch of glamour to the wearable technology world.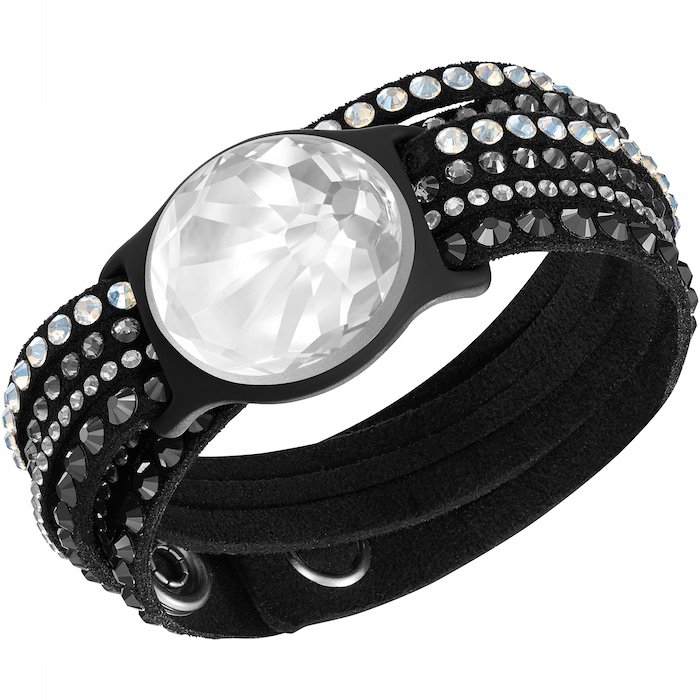 The Activity Tracking Jewelry collection – hitting stores this month – combines fashion and function thanks to a partnership between Swarovski and California-based technology company, Misfit. The jewelry tracks activity, sleep, steps taken, calories burned, distance, and more. At a glance, the bracelet and pendant pieces in the line look to be just jewelry. However, each features a large faceted center crystal that is actually embedded with the expert tracking technology.
The jewelry synchronizes wirelessly with an app on the wearer's smartphone. With a simple tap, the Swarovski activity tracker lights up to indicate not only the time but also the status of activity accomplished for the day. In addition to the pendants and bracelets that can accompany women from day to night, there is also a watchband and a sport band with 50 meters of water resistance perfect for any athlete.  According to Swarovski execs, the brand, along with Misfit, will bring another cutting-edge innovation to the collection soon: a tracker that will not require charging.