As you may have already noticed, this week's watch coverage thus far is about new watches. The one we are about to cover is a new venture — so new that it can be found on Kickstarter — a group funding project open to anyone wishing to invest in getting this Swiss-made timepiece line off the ground. Led by watch industry well-known, Oliver Ike, and Finland's designer Ilkka Suppanen, A. Manzoni & Fils is destined for great things.
For long-time watch lovers, the name Oliver Ike means something. Ike is the brain behind the 1990's brand IKEPOD, which he co-founded with Marc
Newson in 1994 and for which they had their first watch launch in 1996. I had the great privilege of assisting Oliver and Marc in the launch of the highly-conceptual Ikepod line nearly 20 years ago. The brand was the first to unveil a  monoblock case and a unique pod-like design for its Hemipod, Isopode, Megapod, Manatee and other timepieces – all of which were limited -edition mechanical COSC-certified chronometers.  The brand was highly accepted and enjoyed several years of success under that regime.  In fact, the Hemipode watch was a favorite of Brad Pitt, Jennifer Aniston, Elton John and others.
In the mid 2000's, Ike went on to other projects, including watch consulting. Now, he has determined to launch his own line once again. For the past three years, Ike has worked with Suppanen in the development of the new collection by A. Manzoni & Fils. This brand has its roots in Lugano, dating back to 1888 when it moved there following an earthquake hundreds of kilometers away in the Italian part of the country where it had been located. Says Ike, "We wanted to revive this traditional, local luxury brand, which embodies the spirit and company philosophy we strive for."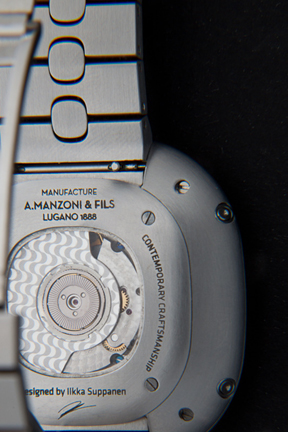 Turning to top craftsmen in Switzerland, the brand utilizes Dubois Depraz and Soprod movements. The first watch to be launched by   A. Manzoni & Fils is the Canopus Weekplanner. With distinctive design that somehow transmits an Oliver Ike message in Suppanen style, the Canopus Weekplanner is a full calendar watch with a minimal design in a complex ellipse-shaped stainless steel case.  The bracelet, made by Broggioli SA in Lugano, features a patented fine regulation mechanism for rapid change, and is sold with an optional leather strap. The straps are made by Camille Fournet. The Canopus Weekplanner houses the Soprod A10 automatic mechanical chronometer movement with 42 hours of power reserve and an exclusively developed Dubois Depraz module with sweep week indication, date, weekday and rotating moon hand that covers and reveals the moon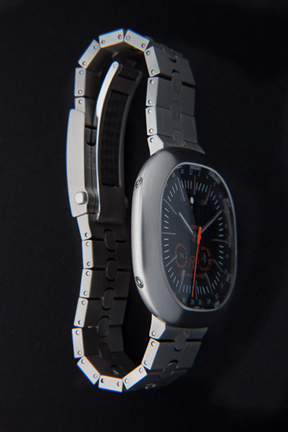 phase  subdials.
Says Oliver Ike, "The details on our watches have cultural references and reflect contemporary design. We created the côtes de Copacabana, a movement finish and dial finish that pays homage to the pattern that Brazils' most famous garden architect copied from the Portuguese immigrants and gave to the beaches of Copacabana."
The launch of a high-end, Swiss-made, mechanical watch on Kickstarter is an absolute novelty in luxury marketing. From now until August 6, interested parties
who may want to be part of the journey can take part in this crowd-financing kickstarter project — and have the opportunity to own the watch for $5,000 instead of the $15,000 that it will cost when it arrives on the market (due in part to the markups required for advertising and distribution costs to bring it to market).