This Greubel Forsey GMT , which was first unveiled to the world last year and is now in production, was three years in the making. The watch offers a 24-second Tourbillon and a rotating globe with universal time display, 24 time zone world-time display, summer time indicator, world time disk with summer time zones and a day-night indicator.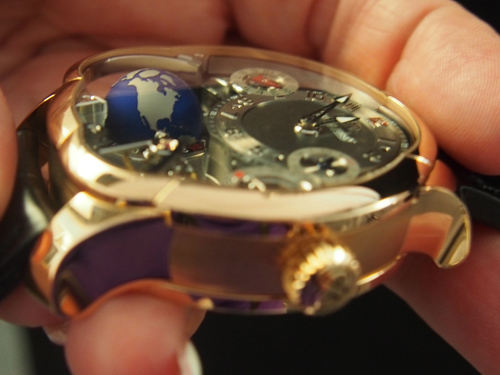 Recently we got to spend some time with this watch– hands on – and it's a beauty.  In fact, it stops people in their tracks. The predictable question: whose watch is that? Followed by: How does it work.  We witnessed jaws drop when we took this watch off and showed it to watch lovers. It is a statement maker – offering both incredible multi-dimensional looks and unparalleled technical prowess. The retail value of this beauty:  $595,000 – and that's a steal.
Indeed, watchmaker s Stephen Forsey and Robert Greubel have become a true force in the watchmaking world in their short seven years in the industry as a brand. Their untiring quest for perfection and pursuit of excellence easily rivals that of their counterparts of centuries ago- and would have made watchmaking forefathers such as Abraham-Louis Breguet proud.  
"It is important that our timepieces offer ultimate visual access into the movements so the wearer can get a full appreciation of the inventions and the extreme fine finishing we put into them," says Stephen Forsey.  "We only make about 100 watches a year because we are limited by the superior hand finishing. It gauges how much we can produce. We have 16 artisans in this department. They spend 50,000 to 60,000 hours of hand finishing each year just to complete the 100 watches we make annually. It also takes almost a year to build one of our more complicated movements," says Forsey. "So we move slowly in our production numbers. But it is not volume we seek, but precision."   We say:  Seek on.