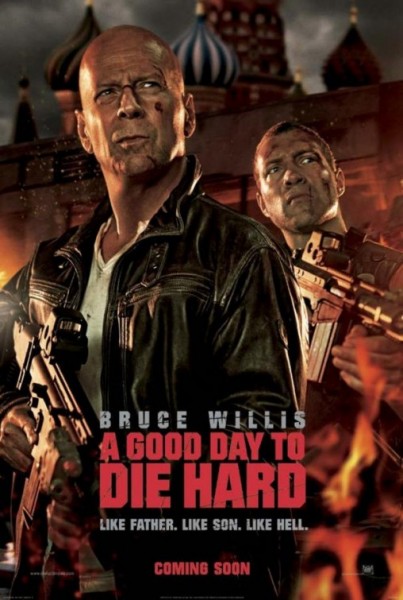 Long associated with Hollywood – having starred in hundreds of movies since the 1950's — Hamilton Watch once again shares the action-packed spotlight in the upcoming movie, A Good Day to Die Hard. Being released in February with blockbuster action star Bruce Willis the 20th Century Fox film will feature Hamilton's new Khaki X-Patrol and classic Jazzmaster Viewmatic wristwatches.
Bruce Willis' character, John McClane, wore a Hamilton timepiece in the previous Die Hard film, Live Free or Die Hard, and in this newest incarnation McClane and his estranged son, Jack (played by Jai Courtney), both wear Hamilton watches. The Khaki X-Patrol (worn by Courtney) features an advanced conversion table that provides units in both metric and imperial systems, making it perfect for the father-and-son team's international adventures. The Jazzmaster Viewmatic that Willis wears combines Hamilton Watch's classic design with modern functionality.
In partnership with 20th Century Fox, Hamilton will be executing a global marketing campaign for the release of A GOOD DAY TO DIE HARD. The campaign's creative – which includes print ads, point of sale, digital media, and in-cinema media – features Hamilton's reliability and strength in tough situations, as action icon John McClane finds himself in Moscow in a race against the clock to stop an unexpected threat.
Hamilton has appeared in countless Hollywood movies, ranging from Frogmen in the 1950's to Blue Hawaii and Kubrick's 2001: A Space Odyssey in the 60's and many more – including the 2012 release of Men in Black 3. In fact, the watch created for Kubrick's futuristic space film was made expressly for the movie at the request of Kubrick. It is currently on display at a retrospective exhibition of Kubrick's work at the Los Angeles County Museum of Art (until June 30th).