As seen on Worldtempus.com
You had to look really hard at this year's SIHH to see the cooperative work of Greubel Forsey and miniature sculptor artist Willard Wigan – who micro-sculpts art on metal that is smaller than 1/15th of a single grain of rice.  The sculpture created for Greubel Forsey's Art Piece 1 watch is carefully placed — visible from the dial side — if you have a microscope. Otherwise, you have to look through the specially made crown at 9:00, which features a 23X magnification of the micro sculpture.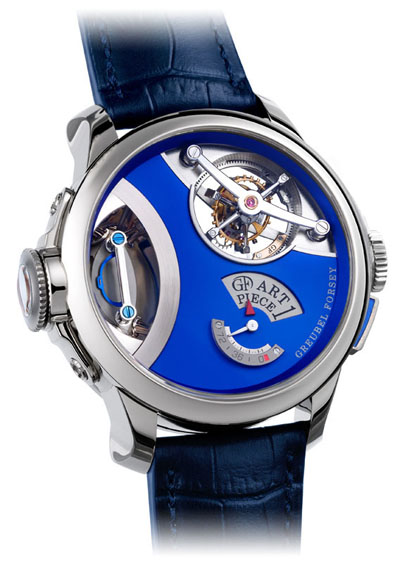 The Art Piece 1 is an artistic collaboration that brings a new chapter to the brand – one filled with art perhaps as equally exacting as the watchmaking of Greubel Forsey. For Wigan to create his pieces, he goes into a meditative state. He must hold his breath, reduce his heart beat and then – between two heart best – make a single sculpting operation. Willard's micro-sculptures are now so miniature that they are only visible through a microscope. Each piece commonly sits within the eye of a needle, or on a pin head.                                              
"It began when I was five ," says Willard Wigan. "I started making houses for ants because I thought they needed somewhere to live. Then I made them shoes and hats. It was a fantasy world I escaped to."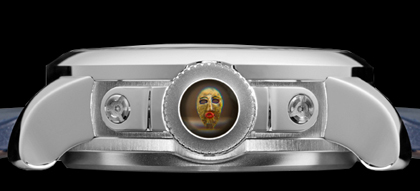 "It is a blend of art and horology that has never been done before," says Stephen Forsey, who notes that it was Robert Greubel who first learned of Wigan's work and wanted to proceed with a partnership. The first challenge as watchmakers was finding a way to magnify Wigan's micro-sculpture so it could be seen (the second challenge was to bring enough light on to the subject – achieved via the large apertures in the watch).  In fact, Greubel and Forsey had to seek out an optical specialist to create the magnifying crown for the piece.
"We found someone who specialized in spherical optics and they told us it was impossible to do what we wanted," says Stephen Forsey, "That's when it got interesting. We are not in the business of thinking something is impossible."
It took two years to overcome the optical issue with this timepiece, which features a miniature rotary on the magnifying crown so one can adjust the focal length. The first micro sculpture created by Wigan for Greubel Forsey for exhibition at SIHH is the Golden Mask (symbolizing the hidden wonder of the micro-sculpture), but the newest piece under works is the Golden Sails – a sculpted gold ship with triple masts.
"The ship represents a journey, an adventure, and that is what this collaboration is," says Forsey. It is estimated that the watch – with its superb mechanics and micro sculpting – will retail for about $1.5 million.