We get asked the question a lot from readers: What are the Geneva Seal and the Poincon de Genève? Are they the same? And how does a brand get the Geneva Seal? Well the answer to all of these questions – which for some are confusing – is simple. The Geneva Seal and the Poincon de Genève are the same thing – a quality seal awarded to watches submitted for inspection to an independent bureau operating under state control in Geneva.  The Poincon de Genève is currently the only watchmaking label to benefit from State guarantee – and that effort is fulfilled by TimeLab – the Geneva Laboratory of Horology and Micro-engineering.
To receive the seal, the watch movement must meet 12 criteria relating to the quality of the its finishing and materials. The certificate is only awarded to timepieces with remarkable decorative finishes qualifying it as a work of art. Additionally, the certificate was updated a couple of years ago and now guarantees the watch (not just the movement) is quality craftsmanship and chronometrically precise, as the finished watch is also tested for water resistance, power reserve and accuracy, as well as judging the aesthetics.
More importantly, though, to be acknowledged by the canton of Geneva and therefore even be eligible to be inspected for the Seal, the watch – and all of its parts – must be manufactured in Geneva.  If a watch is diamond set, even the diamond setting must be done in Geneva. The seal (with the Geneva Coat of arms on it) is stamped on the watch movement when approved. (Some also call the Geneva Seal the Geneva Hallmark.) Earning the Poincon de Genève is no easy feat –especially in a watch with hundreds of components, as each and every part (from wheel trains to the adjustment system, balance wheel, spring, and all shaped parts including screws and pins) must be finely decorated and finished to flawless perfection. Screws and pins must have polished chamfers and straight-grained sides.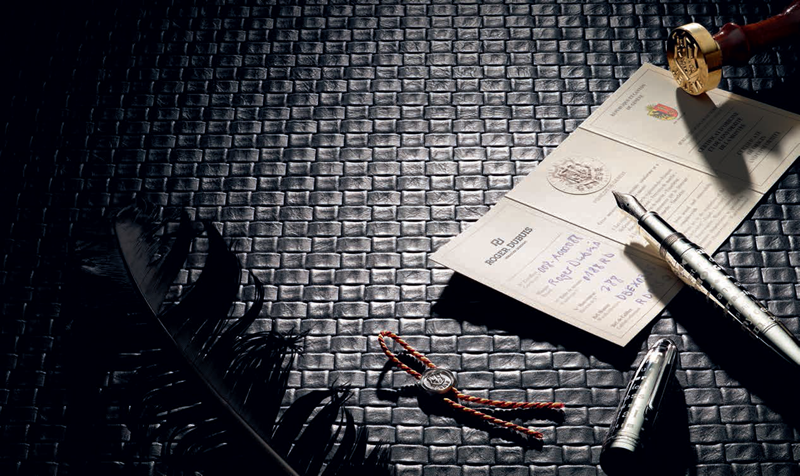 Among the handful of brands that are based in Geneva and submit their watches for the Geneva Seal  — the oldest watchmaking certificate in the world (having been established in 1886)  — are Roger Dubuis (the only Manufacture to be 100 percent Poincon de Genève), Vacheron Constantin, Chopard  and  Cartier.  The brands that comply with the certification standards respect its philosophy, right down to the design and development of their timepieces. In return, the Poinçon and accompanying certificate provides irrefutable, internationally recognized proof of the quality of craftsmanship and functioning of their timepieces. Since September 2013 any watch issued the Geneva Seal receives a unique key or code that a purchaser can use to check the authenticity of the certification. For more information, click here.