By Ryan Walsh
We all heard the announcement last year that the Movado Group entered into an exclusive licensing agreement to design and manufacture watches for the renowned Italian automaker Ferrari under the brand name Scuderia Ferrari Orologi. The first collection made its debut a few months ago at BaselWorld 2013 and is now available in stores – in fact, it is being sold in select retail stores, Ferrari retail stores and online at Ferrari's website.
The watches for both men and woman bring the same amount of excitement the cars do, but in a different sense. Because the watch designs are inspired by the race cars belonging to Scuderia Ferrari Formula One Grand Prix, their detail and precision design is spot on. So much so that these watches will leave an interested buyer with a tough decision: which one to choose. Watches include the Pit Crew, Scuderia, Paddock, Race Day, Heritage, and Lap Time, all clearly putting the buyer in the mindset of being at the track and ready to race. In total, 39 options of watches exist, many with top-quality components such as high-tech composite cases, silicone straps, scratch-resistant mineral crystals and either automatic or quartz-powered Swiss movements.
My personal favorites: The one that catches my eye the most would have to be the Ferrari Race Day, in yellow. To start, the black silicone strap with the racing yellow stripe down the middle built to resemble the air intakes on the hoods of the Maranello cars is a real attention grabber. This is a bold complement to the clean, simple look of the black face, with silver and yellow hands making their way across the Prancing Horse at the 12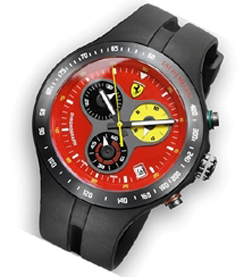 o'clock position. Another favorite of mine is the Scuderia watch that braces to your wrist with black bracelet like Ferrari's Pirrelis grip the track. This watch gives more of a low-profile style — not as much in your face. It has a tachymeter bezel and offers chronograph functions, with the subdials emulating the gauges on the car dash. The entire collection of new timepieces retails from about $125 on up to approximately $700 or so depending on the model.