Last week in St. Barth's we had a wonderfully rich and unique experience accompanying Richard Mille at the Voiles de St. Barth's regattas – for which Richard Mille is the main sponsor. We have some great stories and images forthcoming soon about that event – but meanwhile we wanted to bring you up close and personal with the really cool new Richard Mille RM028 that we had the luxury to try on, play with and indulge in for a while.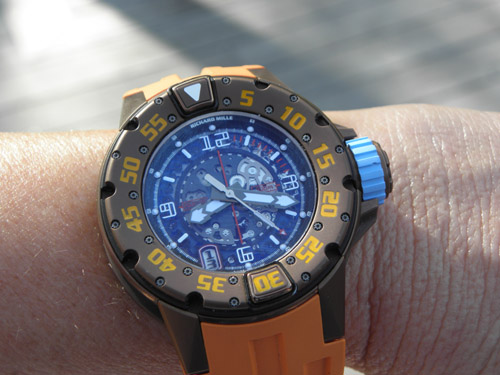 Decidedly individualistic (but then, all Richard Mille timepieces are that ), this 47mm Diver's watch is created in titanium with bronze colored PVD for a super sharp look. Called the RM 028 Brown PVD, this watch has the same technical characteristics of its predecessors: titanium with DLC coating; skeletonized automatic RMAS7 movement; rotor with variable geometry. But it packs an ever more powerful punch in its burnished and sandblasted bronze PVD case. Especially when accented with a bright orange strap. Yes, this will get anyone's attention.
The three-part case of this watch renders it water resistant to 300 meters and meets the diver's watch ISO norms 6425. The bezel is also composed of three sections – assembled with 22 torque screws for perfect adjustments. What is truly special about this patented unidirectional  bezel is the fact that it cannot be accidentally moved during diving
thanks to an ingenious system that requires the wearer to press on two arrows simultaneously to move the bezel.  The highly technical feature could be a life saver under water.  The entire piece was approximately a year and a half in the design and development stages. While it was unveiled in 2012, it is now fully available on the market – for a bold but beautiful price of $95,000.