Being at the Pebble Beach Concours d' Elegance — for any car lover – is like being in a very luxurious and wonderful dream.  Thanks to an invitation from Rolex, I had the grand occasion to visit the 61st such event this weekend – in celebration of the 125th anniversary of the automobile – the invention that revolutionized lives.
Held on the famed 18th fairway of Pebble Beach Golf Links, the event is a by-invitation-only affair that brings together  hundreds of the world's most prized collector cars in one of the
most exclusive and competitive events.  Magnificently Restored and untouched preserved automobiles from the turn of the century and throughout the decades come together in all their glory in what is a breathtaking and mind-boggling experience.  I spent hours on the Concours devouring the sites – wooden wheels of yesteryear in cars dating back to 1914,  hood ornaments that leave one marveling at their very intricate detailing and intake manifolds  and outer accents finished in golden hues.
From Duesnbergs to Stutz's (which celebrates its 100 year anniversary) , Edwardian-era Rolls-Royce's ,  Packards,  and the finest Ferrari  250 GTO's (the automobiles produced from 1962 to 1964 that marked the culmination of Enzo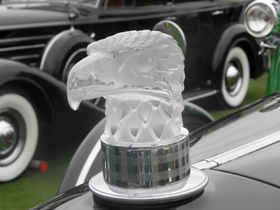 Ferrari's efforts to perfect this line),  the Concours d' Elegance recalls the glamour and growth that classic automobiles and fine racing vehicles brought to reality.  If one can't fulfill a passion for the architectural lines of the roadsters, grand touring and  motorsports here, it probably won't happen anywhere.
This year's Best of Show Winner:  A quite alluring 1934 Voisin C-25 Aerodyne owned by Peter Mullin (owner of many vintage autos) and an entry in the 1932-1937 European Classic
category.
My Best of Show Pick: While I loved the Winner, the interior didn't do the trick for me. I'm afraid I was a bit more staid. I loved a couple of the American Classics, including a light yellow 1934 Packard, the owner of which  happened to be a friend of famed car restorer Wayne Carini, whom  I met him at the show– but watch for more coming about and from Carini  soon enough here at Atimelyperspective.
Watch for more coverage here, too, of the Rolex Monterey Motorsports Reunion at Mazda Seca  Raceway in the coming days.