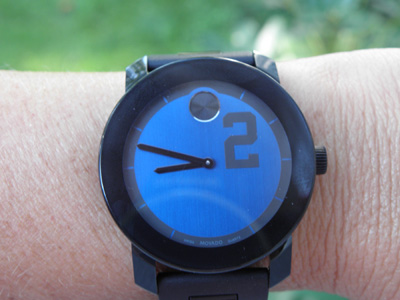 What could be more exhilarating than a great day at Yankee Stadium watching the Yanks win over the Angels, sitting in great box seats with Movado and meeting Derek Jeter? Winning the auction and being the proud owner of the new Movado Bold Derek Jeter 3000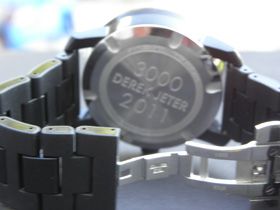 watch – and knowing the proceeds go to Derek Jeter's Turn 2 Foundation (which Jeter established in 1996 to develop specialized youth programs).
Built to commemorate Jeter's hitting 3,000 in Major League baseball – a remarkable feat — the watch is created in a limited edition of 300 pieces, pretty much all of which are sold out. The watch, which Atimelyperspective wrote about last month, looks and feels amazing on the wrist. The black case is so sleek with the metallic indigo blue dial that just calls out to you from across the room – especially since it is customized with Jeter's number '2' at 2:00. The case-back is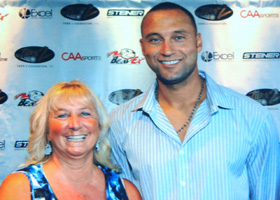 engraved to commemorate Jeter's 3000th hit, and the watch comes with a thank you note from Jeter. But best of all is how the bracelet feels on the wrist – this watch is super light-weight and comfortable! I will tell you it was a nail-biter watching the bids for the watch at the Turn 2 Foundation auction that was going on simultaneously with the game yesterday, and continually having to go back and re-bid, but it was so worth it! The watch is chic, sleek, bold and, well – quietly Jeter! (Sorry, John) Speaking of Jeter, he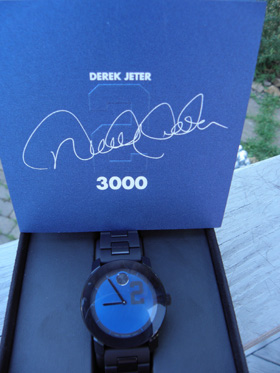 was gracious, warm, affable and wonderful to meet. Thank you, Movado.