By Samantha Walsh
For more than 130 years, Alpina has been a pioneer of the Swiss fine watchmaking industry. As a longstanding, well-known brand they have always been a source of innovation – not only in watchmaking but now, in ecological issues as well. In 2014, Alpina committed to the Swiss foundation 'Race for Water' which aims to education and raise awareness about how to preserve this quickly depleting, precious resource. The foundation focuses on two main problem areas: the plastic pollution plaguing our lakes and oceans, and the preservation of our freshwater sources. In partnership with major international NGO's and ambassador Aurélien Ducroz, Race for Water plans to raise awareness, make a difference, and come up with concrete scientific solutions for this major issue.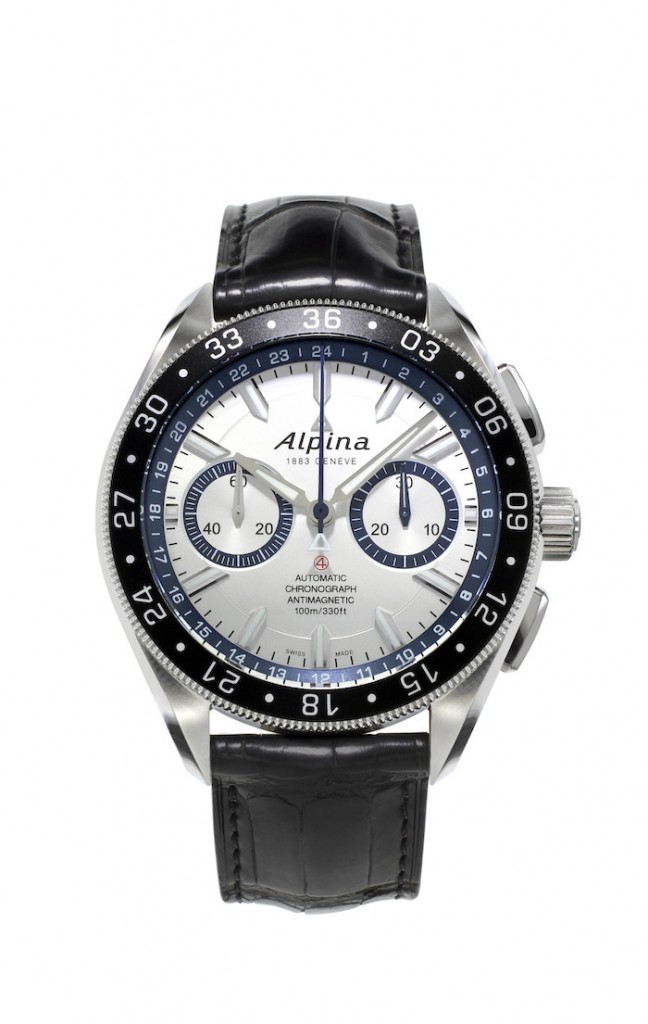 As 'water guardian' for the foundation, Aurélien Ducroz will play a major part in gathering the data necessary to solve this issue. As a two time freeride skiing world champion, with a double career in sailing, he has explored areas where the sea and mountains meet. In these almost inaccessible areas he can plant and recover scientific Argos markers that will provide the foundation with vital information about the freshwater and ocean climate. This data will be essential to understand the issues at hand and thus overcoming the depletion of our resources.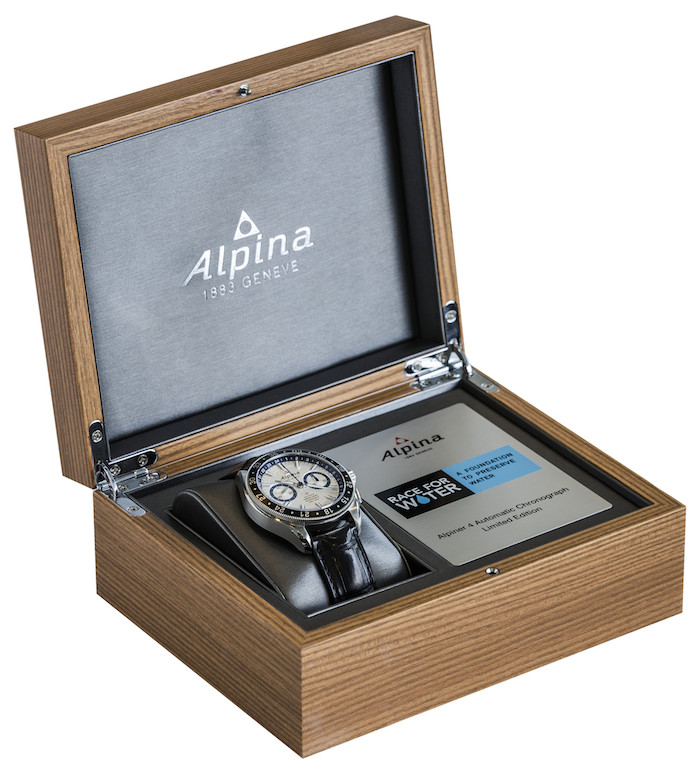 In order to aid him in this expedition Alpina has created the special limited edition Alpiner 4 Chronograph "Race for Water". This timepiece is made of stainless steel, in the Race for Water Foundation colors, and sits on an alligator strap. It features AL-860 Caliber movement and was made to be durable to withstand all elements: it is anti-magnetic, anti-shock, and water resistant to 10 ATM, with a power reserve of 46 hours. The watch also features a helpful 360 degree bi-directional turning compass bezel. This timepiece, as mentioned, is a limited edition, and only 400 pieces will be made. A portion of the profits will be donated to support the foundations' initiative. It will retail at $3495.
Get in on the Action
Additionally, in celebration of the Alpiner 4 Chronograph,, and in harmony with its alpine sports values, Alpina is now offering the opportunity to experience breathtaking, total-immersion exploration type trips  that are  respectful of nature  — through the new, unique  Alpina Adventures organization. Conducted and led  by the legendary polar explorer Borge Ousland (the only man to have crossed the North and South Poles alone) and his team of adventurers,  participants can experience the values of the brand in an environment that can be both hostile yet magnificent. Such adventures include wearing ice cleats, continuing by kayak, or with a team of huskies to explore terrain that few ever get to experience.  Borge Ousland and his team of adventurers-explorers will lead  "Alpinists" through  breathtaking landscapes in the heart of the Norwegian winter, the Arctic ice cap, Greenland, the South Pole or Patagonia. Reservations are made via www.alpina-adventures.com and Alpinists owning an Alpina watch will receive a special price promotion when reserving their adventure directly via this site.