Jason Heaton is passionate about diving and has even achieved Rescue Diver Certification. Heaton, who lives in Minneapolis, grew up around Lake Michigan, where there are pristine ship wrecks thanks to the cold water. He has spent years diving in top spots around the world – in water ranging from Lake Michigan to the Honduras, Bonaire, Sri Lanka and even Boston Harbor (a murky site that wasn't his favorite). Heaton has found way to combine his love of diving with real-world dive-watch reviews for a variety of publications. Here he shares his thoughts with Atimelyperspective on what makes a good dive watch.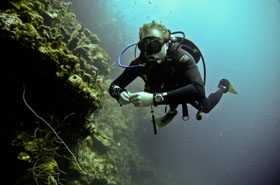 Jason Heaton somewhere off of Roatan, Honduras, wearing a Jaeger-LeCoultre Master Compressor Diving Geographic Navy SEALs in rose gold. "Crazy watch in all respects!""The truth is that you don't really need a dive watch today because there are so many other dive instruments you can use, but there is a saying in the dive world that is critical: 'two is one and one is none'. If you have two pieces of equipment, it's like having one, and if you have one, it's like having nothing because anything can happen to a single instrument. You always need backup, and for me, that's a great dive watch," says Heaton.
Several times, Heaton has had to rely only on his watch when diving. In fact, he refers to a trip in Sri Lanka, where a diving buddy's dive computer died. Heaton lent his computer to that diver, and relied on his watch to track his own time and depth.
Heaton uses his dive watch to track intermediate things he is doing under water, and asserts it's a valuable timing tool, as well. He especially notes that since underwater navigation is tricky, using the watch to time how long you are swimming in one direction, helps you to assess when you need to turn around in order to get back in time before using up air. Thus, says Heaton, the most important feature on a dive watch is a one-way ratcheted bezel for the ability to track elapsed time. Also, in keeping with the ISO dive standards, the watch should be water resistant to at least 100 meters and have minute and hour hands that are distinctively different from each other.
"Additionally, when looking to buy a diver's watch, one really needs to look at the strap. It's the first thing you have to deal with after putting on your wetsuit, so it's good to have a rubber or Velcro strap that fits over the suit, or a quick change bracelet. Divers also want a bezel that's grippy and turns easily enough to set. Luminescence is so important because you need ease of telling time under water, and finally the big clunker watches can get hung up on gear and snagged on things, so a lower profile watch is better."
Among Heaton's favorites: Rolex, Citizen, IWC, Jaeger-LeCoultre, Omega, Doxa.