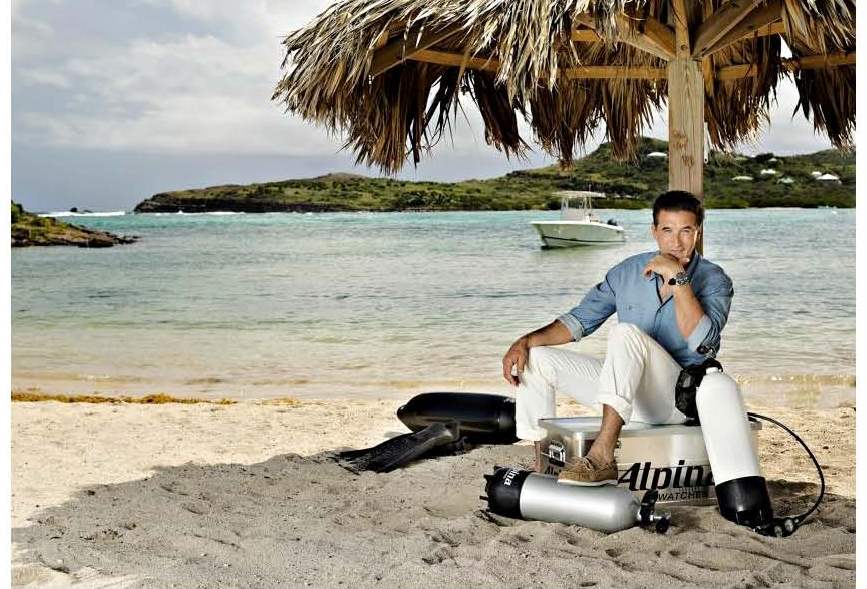 If you are a fan of the Baldwin Brothers — Alec, Stephen, William — then you may enjoy hearing that just recently, Geneva-made Alpina Watch brand announced that actor and television star William "Billy" Baldwin has come on board as the ambassador for the brand's newest Alpina Dive watch. At a cabana party atop the Maritime Hotel in New York, I had the opportunity beforehand to talk with Billy Baldwin at length about this newest gig. Interestingly, his interest in watches and this brand is genuine.
To begin with, Baldwin is a diver and so he is representing the brand's dive watch serires – makes sense. More importantly, he is an avid lover of hand craftsmanship and art, making the world of watchmaking a great fit. Finally, he feels that time has played a very omnipresent role in his personal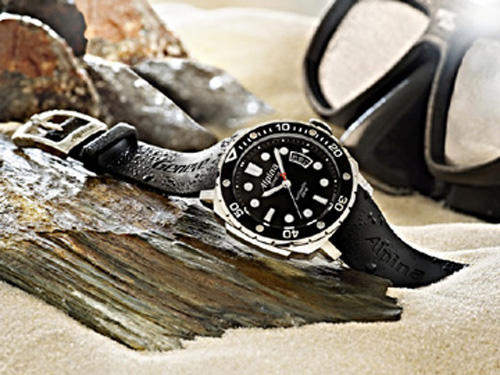 and business life.
"For me, so many things just came together at the right place and the right time. From meeting my wife, to landing my first real television part," says Baldwin. That first part he refers to was a small stint in the movie Born on the Fourth of July, which was an adaptation of the autobiography of Vietnam War veteran Ron Kovic. Baldwin's father had been Kovic's teacher in high school, and when Kovic was in the veteran's hospital, Baldwin's dad and sometimes Baldwin, would visit Kovic. "Being in the movie was so perfect a fit for me. It was my second audition, and it wasn't really even an audition, and it was my first part."
While Baldwin has played many roles since then both in movies and on television, he says he is trying now to live more in the moment and less for the future. "What is important is the present, taking more quality time with my wife and my family and enjoying what life brings."
Among those things life brings is the newest role as ambassador for the Alpina Dive watch. He says he had done endorsements for other types of products in the past, including technological products, medical and fashion, but this is his first time with a Swiss watch brand. "I was humbled when they came to me, and flattered that they wanted me," he says. "I have a real romantic relationship with artistry and craftsmanship and I find it very romantic that they still hand craft watches in Geneva. The history is immense and the workmanship that goes into watchmaking is very special. This is the one field where the old saying 'They don't make it like they used to' doesn't apply. With watchmaking, they do make it like they used to."
Baldwin's choice in Alpina Dive watches is the rubber-strapped version. The 44mm stainless steel watch features a black PVD coated Alpina rotor, visible through the sapphire case back. The automatic caliber AL-525 offers 42 hours of power reserve and is delivered in a specially designed diving oxygen bottle gift box. This watch retails for $1,250, but Alpina also offers it on a link bracelet and on a
mesh bracelet.
Alpina CEO Peter Stas also announced a tie with Baldwin's family charity for breast cancer research, The Carol M. Baldwin Breast Cancer Research Fund. Alpina has created 10 Alpina Dive watches with the Foundation's logo on the caseback solely for use by The Foundation for auctions at various events.