By David Rose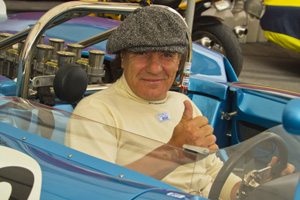 One of Rock and Roll's most enthusiastic lead singers on stage is the rock band AC/DC's Brian Johnson. His enthusiasm intensifies, however, when he puts on his driver's suit and climbs into his 1965 Lola T-70 like he recently did at the Rolex Monterey Motorsports Reunion, where 550 historic automobiles were competing in 17 groups that ran the gamut from Pre-1940 Sports Racing and Touring Cars to 1981-1989 FIA Mfg. Championship & IMSA GTPs. While timing is critical to Johnson on the track and on the stage, he shared his thoughts with us at the Rolex Monterery Motorsports Reunion as they pertained to driving instead of timepieces.
"This is my first time here at the Rolex Monterey Motorsports Reunion and my first time at Mazda Raceway Laguna Seca," said the 63-year-old Englishman, who resides in Sarasota, Fla., "but I'm going to come here for the rest of my life, and that's a promise. "
"When I heard the sound of the big V8s of my race group all take off at the drop of the green flag, I thought if Zeus were here and created thunder, this is what it would have sounded like," said Johnson, bringing to mind lyrics from one of his most famous songs: "Thunderstruck" (The Razor's Edge, 1990).
"I've been racing for about 14 years on-and-off," he said, "and unfortunately, because of my day job where I am traveling for a couple of years at a time, I have to keep coming back and re-learning the driving technique. It is such a privilege to be sitting in a car that really good drivers once drove. Keeping the car on the track and coming anywhere close to what the original drivers have done is an achievement. "
Johnson, who added that in January of 2012 he also will satisfy his life-long ambition of racing in the Rolex 24 At Daytona, feels that driving in a race and getting on stage are very similar.
"You don't give everything away at the first corner, just as you never give away everything at the start of a show," he said. "You have to keep it steady and then you build and build, and you get faster and smoother while building to a crescendo and leaving the crowd wanting more. In both, you have a team of guys who make it all possible. In actuality, the car belongs to the crew; as a driver you are just borrowing it for a while. The main thing is to always stay calm; it is always a challenge when I get into a race car. Having driven this Lola, I really appreciate the guys who raced these cars in the 1960s. It's no wonder they called them widow makers."
Johnson also alluded to the fact that half the joy of competing in the Rolex Monterey Motorsports Reunion is in the journey to get there. Like many competing here, he has an impressive car collection, and one of his cars, a 1930s Bentley that he calls "Thunder Guts," was his transportation to the track that morning. "That was fun," said Johnson. "It was like flying a WWI bomber across the mountains with the goggles fogging up, and coming down the mountain was even more fun with the old drum brakes."