Yes, Father's Day is only a week away. And, yes, this is the graduation season. We have said it here before, but we reiterate – a watch is the perfect gift for the grad, dad, brother, uncle, boyfriend, hubby in your life. It is the one thing that is always timeless.  That said, this week we will present some great watches to think about for Father's Day gifts. They will range in multiple price points to range from gifts for a   newbie to a watch collector – and somewhere in the middle depending on your budget.
First, we want to offer a few tips and hints that will help you when selecting a watch. Naturally, you first want to set your budget and determine the interests, likes and lifestyle of the person you are buying for so you have some idea of if sporty chronographs, sophisticated elegance or technical advancement tops your list. Next, you need to scout out the timepieces.
In doing so, we suggest you pay close attention to certain overall construction details – including taking a look at the following things: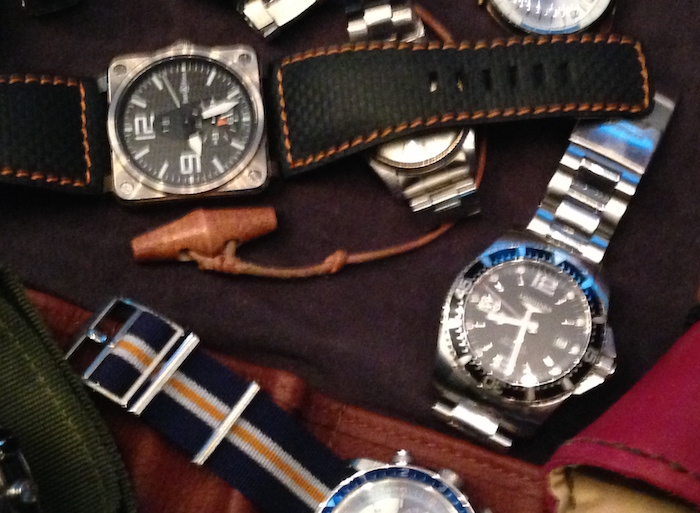 Crystals: Watch crystals can be mineral glass or synthetic sapphire crystal. They can be treated with anti-reflective coating or not. Benefits of each: mineral glass is less expensive and generally won't shatter; sapphire crystals are generally more scratch resistant.
 Steel Details: Steel watches should be made of 316L surgical grade stainless steel. There are lesser types of steel, and there is also hollow steel (especially in links) that costs less and does not hold up as well. Solid bracelet links are best. The same is true of titanium and other metals. If the watch you are buying has a deployment or locking clasp, it may cost more than a typical buckle type closure, but is usually worth the money.
 Movement: Quartz or mechanical? Swiss or Japanese? This subject is one that is highly debatable, and comes into play only if your budget is above several hundred dollars. Quartz watches are powered by batteries that need replacing every few years. Mechanical watches need to be wound or are automatically wound with the movement of the wrist depending on which type of mechanical you buy. These watches usually need servicing every few years, but if properly cared for they won't let you down. Quartz watches are generally less expensive than their mechanical counterparts.
Dial Readability and Luminosity: Depending on what the watch will bee used for, a clean, crisp looking dial that is easy to read is a plus. However, for sporty watches, good illumination may also be key. Those watches with SuperLuminova or other luminous treatments on the hands and numerals are often a smart buy for sports activities, night reading and underwater timing.