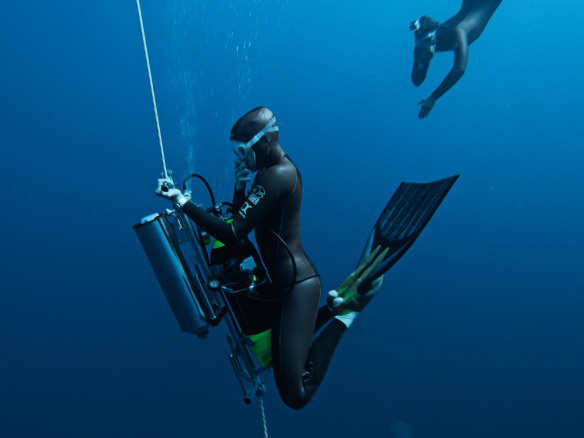 Planning your last hurrah of the summer? Maybe a Labor-Day-Weekend Dive trip? If so, you may want to think about having the right watch to accompany you on your dive into the deep blue seas. Today's watch brands have pulled out all the stops, offering highly technical precision timepieces that easily withstand the elements. Here we bring you four important things to look for in a dive watch.
1) Water resistance
Dive watches are not a new category, though they have gained in popularity for wear both in and out of the water. Often watch brands seek outside help from experts in the dive world as they build their professional timepieces. Dive watches have to meet certain diving standards to be considered true dive watches, and then — depending on whether one is skin diving, scuba diving, deep sea diving or snorkeling — the water resistance requirements range from — at the absolute minimum — 100 meters, with most needing to be water resistant from 200 meters to 1,000 meters.  Watches water resistant to extremely deep depths are also sometimes equipped with helium-escape valves that help with pressurizing the watch . Screw-lock crowns help ensure water resistance, and some brands even offer double- and triple-lock winding crowns. 
2)  One-way rotating bezels and SuperLuminova 
These are a must when it comes to a dive watch. One-way rotating bezels are designed as one-way so they don't actually get knocked in the wrong direction — giving the diver misinformation about his or her dive time. Divers use the dive-scales on watches to measure their elapsed time and to also time critical stops along the ascent.  Also of help are SuperLuminova hands and markers, as well as antiglare treatments on crystals, that make underwater readability easier.
3)  Expansion bracelets, safety clasps, durable materials
Expansion bracelets for use over wetsuits is a big help when you wear the watch your dive watch in and out of the water. These expansion sects enable you to make the bracelet bigger to fit over wetsuits and then reduce the size after diving for continued wear. Many top dive watches also offer safety clasps so one can be sure the timepiece doesn't get lost while diving.  It also helps if the watch is made of the right stuff. By this we mean rugged, durable materials.  Generally, surgical-grade stainless steel and titanium are the materials of choice for the serious diver. For straps, the concept is, without question, a bracelet that is impervious to the effects of the salt and sea. Rubber is the second option.
4) Chronometer status
Most dive watches are also COSC-certified chronometers. Chronometers are watches that have undergone rigorous testing in various positions and under different conditions of pressure, temperature, depth and gravity, usually by the Controle Official Suisse des Chronometres (COSC) observatory over a period of time.