The watch industry, though global, is really kind of small and definitely close knit. If you've been around a while, you have met most of the players. I am proud to say that I am an admirer of one of the artistic masters in our world: Timothy John.  An esteemed artist, Timothy John recently teamed with Minneapolis-based Dark Triumph to unveil the new Lionhearted watch.
Created by Dark Triumph, which creates one-of-a-kind and limited-edition artisanal watches and jewelry, Lionhearted boasts a stunning rendition of a lion on the dial. Hand-painted by Timothy John, the lion has an almost mystical quality to it, with orange-topaz-hued eyes and golden fur.
The dial required layer after layer of meticulous painting to achieve the depth and dimension that makes the lion almost come to life – as if the lion were unleashed and able to roam. According to Timothy John, the Lionhearted dial took about 1 month to create, not only for the creative process of getting the image to 'work,' but also in the post-creative work of burnishing and lacquering.
The 41mm watch is crafted in stainless steel with a brushed finish and boasts a sterling silver bracelet accented with gold and diamonds that is intricately carved with symbolism as powerful and regal as the lion: the relic fleur.  Even the clasp is decorated with the beaded fleur motif.
"I am responsible for each element in my watches, including the intricate fleur patterns on the sterling silver bracelets," said Paul Fazio, founder, creator and concepteur of Dark Triumph. "Depending on the specific design and complexity, I employ different methods to bring my vision to life. Sometimes, I personally carve the wax prototypes by hand, employing traditional techniques that have been passed down through generations of artisans. This hands-on approach allows me to infuse a sense of artistry and precision into every detail. In other instances, I may utilize modern technology to aid in the manufacturing process. By leveraging cutting-edge tools, such as computer-aided design (CAD) software and precision machinery, I can achieve intricate and consistent results. This combination of traditional craftsmanship and modern techniques ensures that my signature designs are faithfully realized."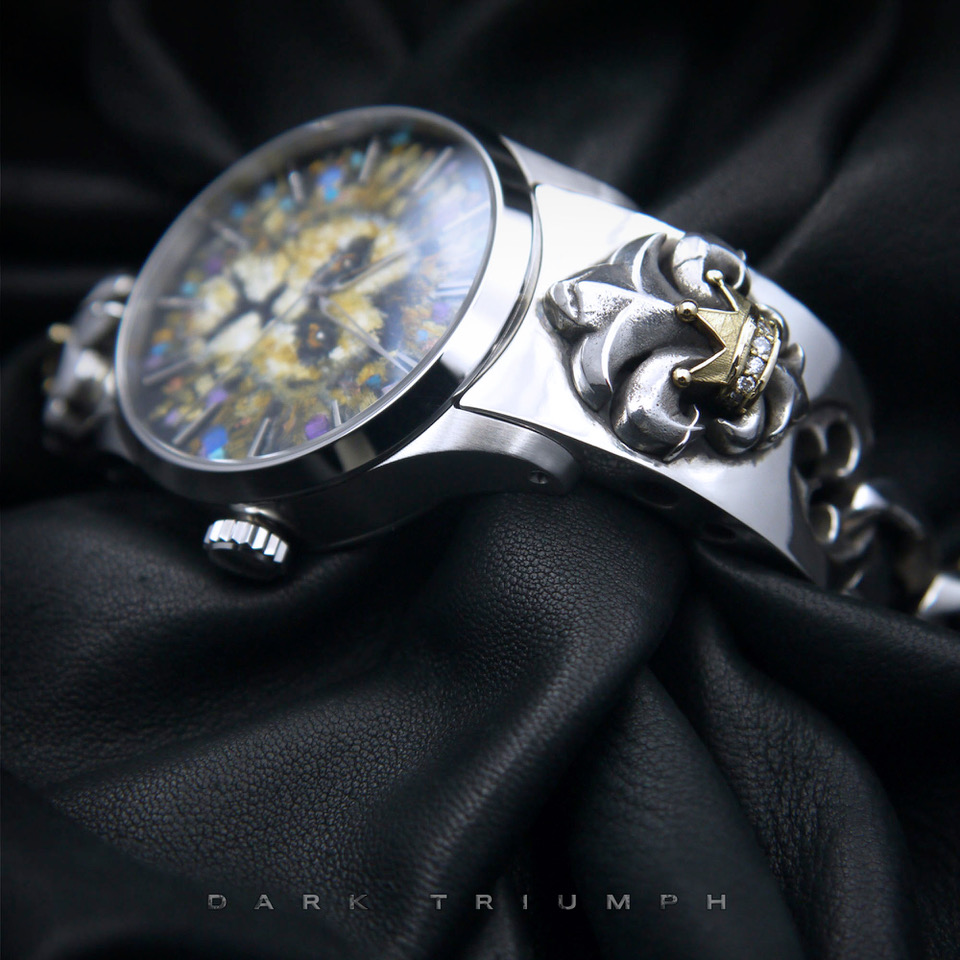 The bracelet of the Lionhearted watch is crafted in sterling silver as an artisan bracelet with 18-karat gold accents and diamonds forming the various decorative motifs.
He added that "It is important to note that due to the meticulous nature of my work and the emphasis on artisanal craftsmanship, the production capacity of my watches is naturally limited. I dedicate a significant amount of time and attention to each individual piece, which results in a production output of less than 50 watches per year. This exclusivity adds to the desirability and uniqueness of my timepieces."
Fazio said that "While Timothy delivered the Lion dial in January 2022, it took me an additional 16 months to meticulously design and craft a watch and bracelet that would do justice to the extraordinary beauty of the dial. This extended timeline speaks to the level of care and attention I devote to every aspect of the creation process, ensuring that each component harmonizes seamlessly to create a timepiece that captures the essence of our combined artistic expression."
The Lionhearted watch is powered by a Swiss automatic movement and a sapphire case back allows for viewing of Dark Triumph's logo rotor. Retailing for $9,999, the watch is sold  — like all Dark Triumph watches — exclusively at John Varvatos Men's Boutique in The Forum Shops at Caesars Palace in Las Vegas.
I had the chance to talk with Timothy about this project (and in fact, I had covered his Montegrappa project here a few years ago), which is a diversion from the Memento mori skull dials he has been doing for Dark Triumph since 2019.
"Initially Lionhearted was conceived of purely as a break from the Memento mori work.  I ran the idea past Paul and he said 'go for it! ' Trusting and supportive as always," said Timothy John.
"The image of the Lion is, of course, a representation of power, strength, dignity and courage…and leadership, but as told in Aesop's fable, 'The Lion and the Mouse,'  the Lion also teaches that love and kindness are never wasted."
"I thought the image of strength, courage and leadership underpinned with kindness and compassion were particularly relevant for today's world. Like all my hand painted dials, I hope the image has the passion and integrity of my larger studio paintings, I am not a miniaturist, and I am in awe of those who meticulously paint and create perfection on small scale."
According to Fazio, each watch Dark Trimuph creates is one of a kind, "Ensuring exclusivity and individuality for the wearer. While the overall brand theme or subject matter may remain consistent, the artistic execution and intricate details make each piece truly unique. It's similar to how great artists throughout history have painted the same subject matter in their own distinctive style, giving rise to extraordinary variations."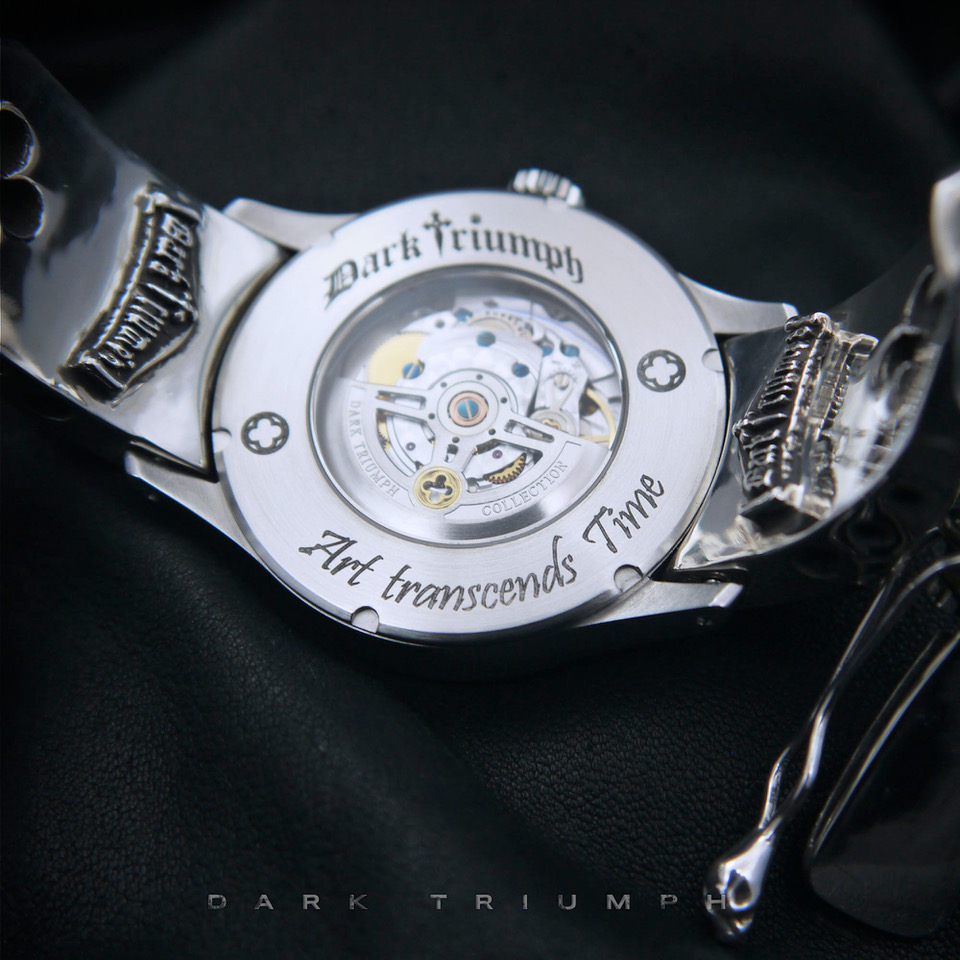 The watch is powered by a Swiss automatic movement.
In the creation of my luxury watches, I took a punk rock 'do it yourself' ethos in that I personally craft each timepiece, pouring my expertise, creativity, and attention to detail into every element. While I take pride in being the primary craftsman, it's worth noting that certain aspects may involve contributions from other skilled craftsmen who specialize in specific areas, such as the movements or the straps. Nonetheless, the essence of each watch is a reflection of my artistic vision and the culmination of my craftsmanship.
On The Dark Triumph x Timothy John Collaboration
When I asked Fazio about how the Lionhearted came to be, his answer was passtionate. "While I am responsible for everything in the overall design and execution, I also believe in the power of collaboration. Timothy, an exceptionally talented artist, occasionally joins me in the creation of hand-painted dials. This collaboration is a rare exception and a testament to the mutual respect and shared artistic vision between us. He creates exceptional dials that elevate the beauty and artistry of each watch."
"My collaboration with Timothy John is a remarkable creative journey that has spanned several projects. As a long-time admirer of Timothy's art, I had been following his work for years before reaching out to him in 2018. I knew that his incredible talent and unique artistic style would be a perfect match for my vision."
"While I recognized that collaborating with Timothy was a long-shot, I was overjoyed when we had the opportunity to get to know each other and start work together in 2019. It was during this time that we embarked on our first project together, creating hand-painted "Memento Mori" dials. The concept of skulls perfectly aligned with the ethos and aesthetic that I envisioned for my watches, and Timothy's art brought them to life in a captivating and extraordinary way."
"While the skull dials have become a constant in our collaborations, Timothy also presented the idea of incorporating a Lion dial, offering a departure from the skulls while maintaining the thematic coherence. I was immediately drawn to the concept, and true to his talent and dedication, Timothy overdelivered. The Lion dial showcases his exceptional brushwork, the layers of paint and pigments, and the stunning depth of color. These watch dials have the same passion and emotion he puts into his work on larger canvases.  These intricate details may not be fully captured in photographs, but when examined up close, the dial reveals its mesmerizing beauty."
"I must admit that Timothy's paintings possess a certain allure that makes it difficult for me to part with any of them. Each dial he creates holds a unique charm, making it tempting to keep them all for myself. I consider myself incredibly fortunate to have found a kindred soul in Timothy, someone whose artistic sensibilities align so perfectly with mine. Our collaboration extends beyond mere artistic partnership; it is a meeting of minds and a shared vision that elevates the beauty and meaning of my watches. Together, we continue to push the boundaries of creativity, creating timepieces that capture the essence of our combined artistic expression."