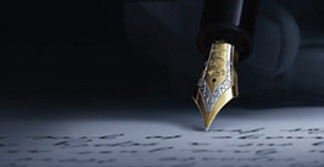 Ever wish you could write with a fountain pen without all the scratching, leaking and other little annoyances that often go along with use of this treasured instrument? Now you can.
Montblanc has developed a tailor-made computer software program to analyze one's hand writing and create a bespoke fountain pen Nib – custom made according to one's individual writing speed, angle, pressure and more. Nib service (not including pen): $850. Add a great Montblanc fountain pen and you've got one of the most special writing instruments ever. Montblanc took several years to develop the high-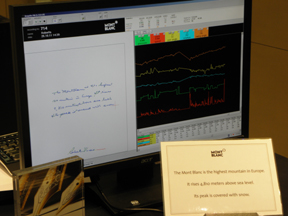 tech computerized system that analyses hand writing, and is investing heavily in establishing the program in select boutiques around the world.
I had my handwriting analyzed and discovered I hold my pen at a very unusual angle that would require my pen nib to be sharpened on two sides differently from the off-the-rack nib. I write very fast and press very heavily, requiring other nuances in the bespoke creation of my nib. It is a fun, relaxing and informative session and you are not obliged at the end to purchase the custom nib if you don't want to –but why wouldn't you? This system offers a great way to reinvent hand writing with fountain pens. Bravo, Montblanc.