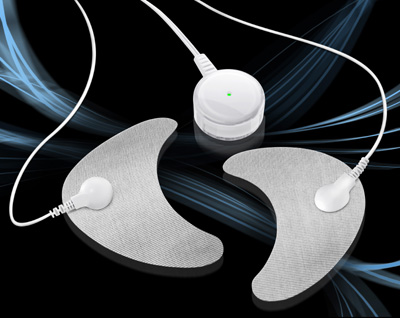 Each Sunday, we bring a little respite from the world of timepieces and focus on a myriad of luxurious and interesting topics, from travel to art, jewelry, accessories and more. Today, we take a real turn and talk about wrinkles – and maybe how to take a respite from them, too. The new WrinkleMD™ patented Ion Infusion™ technique from University Medical Pharmaceuticals ® offers an at-home anti-wrinkle treatment that it says "delivers the same wrinkle filling ingredient dermatologists inject and infuses it into the top layers of your skin." Six years in the development, the technology uses a microprocessor to deliver Hyaluronic Acid, the same ingredient used by dermatologists to fill in fine lines and wrinkles around the eyes – painlessly.
So, with nothing to lose but a few crow's feet, I tested the system. The WrinkleMD Eye system Deluxe kit, which sells for $129 for a 30day supply, comes with a high-tech-looking device and six eye patches. The device attaches easily to the thin, flexible eye patches, which stick to the eye area. One then wears these patches for 40 minutes while the Hyaluronic Acid works its supposed magic – hydrating the skin and firming and tightening the appearance of fine lines. The initial kit comes with six applications (though one can buy six Eye Patch refills for $89).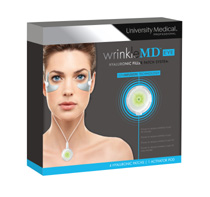 It's super easy to use and after the first application, which requires reading very brief instructions, every subsequent donning of patches takes just a few seconds. Wearing the patches is an interesting transformation: on the one hand you feel very space-age with these unusual gizmos attached to you; on the other hand, you somehow psychologically feel relaxed and in tune with yourself. While my son and husband looked at me like I was crazy, I donned the patches and went about my regular routines at home. I even wore them while at the computer. I used all six treatments – one every 4 -5 days. Did it work? Well, it isn't a remarkable "Wow, look at that!" visible difference, but I haven't seen any crows lately, and I certainly feel a little less wrinkled. I'm game to get additional applications and keep up the simple, fun routine.