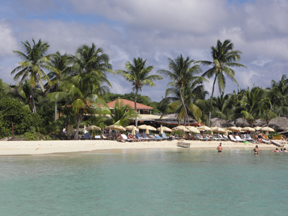 Pinel IslandWinter is upon us and those who hate the cold are probably thinking of an island destination. St. Maarten is the perfect spot. This portal to the Caribbean is an interesting mix of cultures and beauty. Approximately half of the island is French owned, while the other half is Dutch, a division that dates back to the mid 1600s.
Nicknamed the Friendly Island, the people on both sides are congenial. The Dutch side is known for its nightlife, jewelry, exotic rum-based drinks and casinos. The French side offers great cuisine and excellent clothes shopping. In fact, good shopping is on both sides, but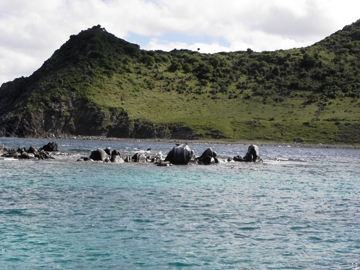 great snorkeling the island attraction is the main street in the Dutch portion in Philipsburg – lined with boutiques galore that attract the cruise lines. Shopping isn't my thing, though, beaches are – and there are some wonderful beaches there.
On my recent trip with Rado to St. Maarten for the opening of its first boutique in North America, we stayed right on the Dutch side, on the beach in The Divi Little Bay hotel – on the beautiful Little Bay beach. Nice hotel- if you get the right room – if not, change rooms. My view of the ocean every day was spectacular, with bright sunrises. We were fortunate enough to go by boat around the island one day—a true experience. Snorkeling there is a real treat, as the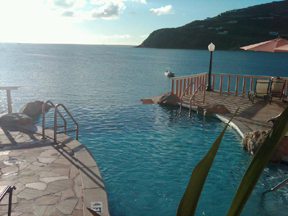 Infinity Pool at Divi Little Baytropical fish are bright and boldly colored. If lucky, you will most likely glimpse a sting ray and may even get to see a sea turtle.
After snorkeling, we cruised to Pinel Island – a MUST SEE on any vacation — docked the boat on a recreational swimming beach, jumped off the side and walked to land, where we indulged in what was easily the best drink I've ever had –Frozen Mojitos. This beach is famous for its shallow warm waters, offers two bars/cafés, a little outdoor hut shopping and stunning white sand. It is accessible only by water taxi or boat. We saw an iguana sunning itself, while we sipped our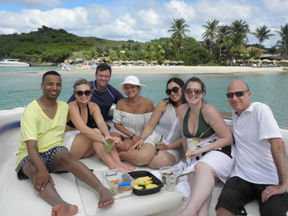 The Rado gang's all here – working naturally drinks. The main beach on this island stays sun-filled until the end of the day. Of course, there are also plenty of nude beaches in St. Marten if that's your thing, and the night clubs stay open well in to the wee hours of the morning – if you go to the right district. Because St. Maarten is mountainous, there is some good hiking, as well, and Fort Amsterdam, but being a beach lover- I stuck with the turquoise waters.