On my recent trip to Naples, I – along with a couple of close colleagues – took an afternoon off to explore the ancient ruins of Pompeii. A walk, a subway ride and a very tightly packed train ride got us to the ruins in a couple of hours, arriving in the late afternoon.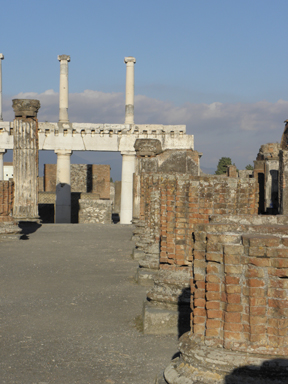 Pompeii was destroyed in 79AD after the city and its inhabitants were buried in dozens of feet of ash following the eruption of Mount Vesuvius. It is documented that prior to that time, the city had experienced earthquakes and tremors, and that many people died simply from extremely hot temperatures resulting from the volcano. At the time of the deadly eruption, it is estimated that 20,000 people lived in this city – one that is surprisingly much larger than you would expect for something built in the 4th century BC and added to before its demise in the first century AD.  Pompeii was lost for nearly 1700 years before its rediscovery in 1748, and its subsequent excavations over the centuries.  Today, Pompeii is a UNESCO World Heritage Site, visited by more than two and a half million people a year.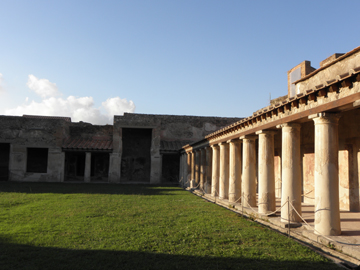 The excavated city offers a glimpse into Roman life in the 1st century at the moment it was buried. The city contains Roman baths, houses, villas, forums, and more, including such erotic art work that for centuries it was locked away from view. While some art is visible on the walls of certain ruins, most of the erotica of the Roman era is not visible. The city, while in ruins, is nonetheless amazingly well preserved for its two thousand years of burial.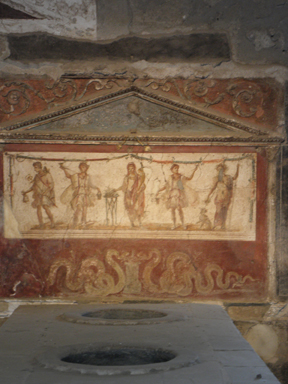 Walking the stone streets that once bustled with life is an eerie feeling, intensified by the viewing of the bodies of the dead – frozen in place as they succumbed to the ash and lack of oxygen. (While most of those bodies are preserved now in a museum, a couple are encased in glass amongst the ruins).  As late afternoon gave way to sunset, the feeling emerged in me that we were, in fact, treading on the land of thousands of souls – trespassing.
Visiting Pompeii was a wonderful experience, and a
sobering one at the same time. It forces recognition of the power of nature, her destructive forces, and yet also offers insight into the truly advanced building and social abilities of men and women who lived centuries before us.  One doesn't leave Pompeii with feelings of excitement or enthusiasm, but rather with a deep respect for history, life and death. It is a must that should be on any traveler's list.